Homemade Blue Cheese Dressing
Is there anything better than a nice, creamy blue cheese dressing with chunks of real blue cheese in it? I love it with cut up raw veggies, on a salad and of course with chicken wings. Making your own is surprisingly simple and there is just no comparison to the stuff you buy in a bottle. Give it a try.
Homemade Blue Cheese Dressing
Ingredients
2 cups mayonnaise
1 cup sour cream
1 cup chili sauce
2 tbsp sugar
2 tbsp Worcestershire sauce
1/2 tsp garlic salt
4 oz crumbled blue cheese
Instructions
Combine all ingredients except blue cheese. Mix well and then fold in the blue cheese. If dressing is too thick, you can add milk or water to thin it.
This dressing can be stored safely in an airtight container in the fridge for up to 3 weeks.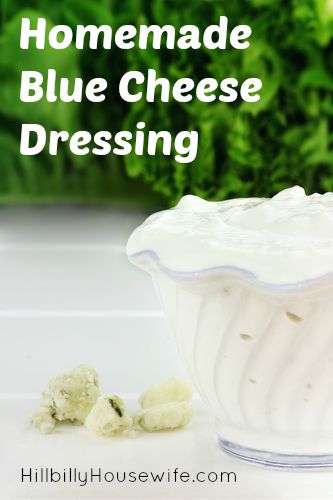 Highly Recommended – Penny Pinching Mama
Find out how Jill Cooper lived on $500 per month. This e-book is filled with over 500 practical, everyday ideas to help anyone stretch a small income.
Get your copy today at:
www.HillbillyHousewife.com/penny
Disclosure: Some of the links below are affilate links, meaning, at no additional cost to you, I will earn a commission if you click through and make a purchase.