Homemade Apple Pie Recipes
There's a reason they call it "As American As Apple Pie". We have certainly perfected this simple little treat over the years. Below you will find two of my favorite homemade apple pie recipes. The first is a little more involved (but certainly well worth the little extra effort), while the second recipe is easy enough even for a weekday treat.
Homemade Apple Pie
6 granny smith apples
1 nine inch pie crust
1/2 cup sugar
3/4 tsp ground cinnamon
Topping:
1/3 cup sugar
3/4 cup flour
6 tbsp very cold butter
Peel and core all of the granny smith apples. Slice apples thin and place them into the pie shell and set aside.
Combine sugar and flour. Cut butter into small pieces and add to dry mix until crumbley. Place on top of the pie and bake at 400 degrees for 40 minutes.
Super Easy Apple Pie:
6 tart apples (granny smiths work well)
2 tbsp butter
1 cup sugar
1 tsp cinnamon
ready made pie crust
Peel and core apples. Mix together sugar and cinnamon. Place apples into pie crust and sprinkle with sugar mixture and butter. Add top crust and cut a slit to ventilate. Bake at 450 degrees for 45 minutes.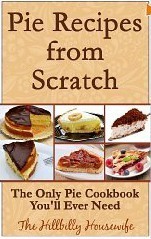 You'll find even more recipes tips, along with FAQ's covering all sorts of reasons why a pie may have failed, in my Kindle book: Pie Recipes from Scratch-The Only Pie Cookbook You'll Ever Need.
Click on here and download your copy today and you'll be baking Blue Ribbon worthy pies before you know it!
Disclosure: Some of the links below are affilate links, meaning, at no additional cost to you, I will earn a commission if you click through and make a purchase.