Herb Roasted Potatoes
I love roasted potatoes. They are quick and easy to make, pretty frugal and by changing up the herbs you use (or don't use) in this recipe, they can taste different every time you make them. Of course you can vary the potatoes as well. I made this with sweet potatoes a few weeks ago and it was absolutely delicious. You can use fresh or dry herbs, or leave out the herbs and use just a little salt and pepper. The possibilities are (almost) endless and this side-dish goes well with a wide range of main dishes. They are great with a roast, some grilled chicken or fish, or even a plate of scrambled eggs or just a few other vegetable dishes. Use the recipe below as a starting point and season the potatoes to your liking.
Herb Roasted Potatoes
Prep time:
Cook time:
Total time:
Ingredients
8 medium yellow potatoes, cut in half
2 tablespoons olive oil
2-4 tablespoons fresh herbs or 1 teaspoon dry herbs
Salt and pepper
Instructions
Preheat your oven to 350 F.
In a large mixing bowl, add the herbs and olive oil. Add the potatoes and toss to coat thoroughly. Sprinkle with salt and pepper to taste.
Bake for about 50-60 minutes and toss every 15 minutes or so, so they brown evenly on all sides.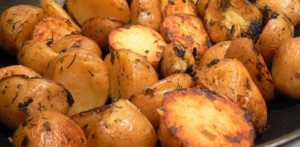 Disclosure: Some of the links below are affilate links, meaning, at no additional cost to you, I will earn a commission if you click through and make a purchase.