Happy Mother's Day Strawberry French Toast
Some days it's harder than others to live on a different continent than my mom. She's taught me so much of what I'm sharing with you here on the HBHW website. She's always been very frugal and great at planning meals, making something delicious out of (almost) nothing and pinching pennies everywhere.
She's also a wonderful mother who raised my sister and I into strong women and wonderful mothers of our own. In celebration of my mother, my grandmother and my sister, I thought I'd share one of my favorite special occasion breakfasts with you – Strawberry French Toast. Down here in the south, strawberries are now in season and they are perfect for this dish. I'm looking forward to this Sunday morning.
Easy Strawberry French Toast
Ingredients
1 8 oz. package cream cheese, softened
1/2 cup powdered sugar
1 Tablespoon vanilla extract
1/2 teaspoon cinnamon
8 slices bread, white or whole wheat
3 cups strawberries, hulled and sliced
3 eggs, beaten
2 Tablespoon milk
4 Tablespoon butter, optional
2 Tablespoon powdered sugar
Instructions
Mix the cream cheese, 1/2 cup powdered sugar, vanilla and cinnamon until you have a smooth mixture. Spread some of this on one side of the bread. Top with sliced strawberries, covering the spread completely.
Spread more of the mixture on another piece of bread and place on top. Press sandwich together gently to enclose strawberries inside. Repeat for all remaining slices of bread.
Mix eggs and milk together and set aside. Preheat oven to 200 degrees. Spray a baking sheet with cooking spray and place in oven. Melt 1 Tablespoon of butter in a skillet.
Take sandwiches and place in egg and milk mixture covering both sides. Lay sandwich in the skillet and cook until the first side is lightly brown. Flip sandwich and cook the other side.
Once both sides have browned, place it on the baking sheet in warm oven. Before serving, top French toast with remaining strawberries and powdered sugar. Drizzle with maple syrup or [url href="http://www.hillbillyhousewife.com/strawberry-french-toast-or-pancake-topping.htm"]Strawberry topping[/url].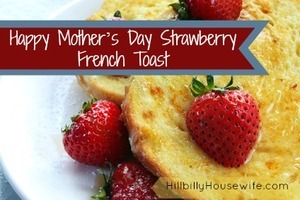 Disclosure: Some of the links below are affilate links, meaning, at no additional cost to you, I will earn a commission if you click through and make a purchase.