Ground Beef Stroganoff Recipes
As you know I'm a big fan of quick and easy ground beef dishes. A family favorite is Beef Stroganoff. I often make it in the crockpot and it's always a big hit. Today I was browsing around online and came across a few different recipes that looked promising. I thought I'd share them here… let me know if you've tried any of them and how you liked them. I'll be sure to do the same.
Below each recipe listing, I'll give you my notes or my thoughts about each blog post and recipe.
www.themotherhuddle.com7/17/12
A quick and easy Ground Beef Stroganoff recipe with a creamy kick of cream cheese.
Note:  I recently came across this  blog and enjoyed reading it a lot. I haven't had a chance to try the recipe yet, but it's on next week's menu.
Ground Beef Stroganoff with Fresh Mushrooms | Mamal Diane
mamaldiane.com6/10/12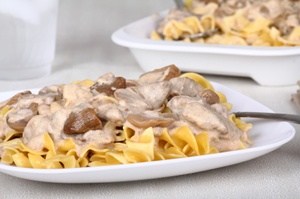 Beef Stroganoff has always been a favorite of my family. I would mix in canned cream of mushroom soup. Since I am not using as many processed foods I don't buy cream of mushroom soup anymore. Now I make it from …
Note: My family isn't a big fan of mushrooms, but if I ever get a day by myself, I'll definitely try this version. My favorite part of this particular posts is the pictures for each step of the process. Worth taking a look just for the images.
Sweet Basil 'n Spice: Easy Ground Beef Stroganoff
sweetbasilnspice.blogspot.com8/6/12
While working in Liberia where cream of mushroom soup was hard to come by and hamburger was the cheapest form of beef, I developed a simple recipe for beef stroganoff using Greek yogurt and ground beef. This recipe is …
Note: I love the fact that this recipe uses greek yogurt instead of "cream of …" type soup. It sounds delicious and makes this a much healthier dish.
Ground Beef Stroganoff Over Rice Recipe | Recipe4Living
www.recipe4living.com8/3/12
Cheap, Fast and Easy to make, and Very Delicious. You can serve this over Rice or Noodles I have not found anyone who does not like this. My Dad called this "Poor Man's Stroganoff"
Note: My biggest take-away from this blog post was to serve the finished Stroganoff over rice instead of noodles. Not sure why I've never thought of that.
Let's wrap it up with a video on making Beef Stroganoff.
Enjoy!
Betty's Company's Coming! Sirloin Beef Stroganoff Recipe
In this video, Betty demonstrates how to make her Company's Coming! Sirloin Beef Stroganoff. Made with top sirloin steak and tangy seasoning and sour cream, the sauce is a perfect complement to freshly cooked egg noodles—just right for company dinner…
Note: The recipe in this video uses lean ground beef. You can make it even more frugal by buying ground chuck and using these tips for lowering the fat of regular ground beef.
Disclosure: Some of the links below are affilate links, meaning, at no additional cost to you, I will earn a commission if you click through and make a purchase.