Easy Whoopie Pie Gobs
1 cake mix (any chocolate cake mix or devil's food chocolate cake mix)
1 (3-ounce) package of instant chocolate pudding
Whoopie Pie Filling (see recipe below)
Preheat oven to 350 degrees F. Line cookie sheets with parchment paper or lightly grease the cookie sheets.
In a large bowl, prepare cake mix according to directions on box, but using 3/4 cup of water instead of listed amount. Beat 1 minute.
Add instant chocolate pudding dry mix and beat 1 more minute.
Drop batter by the 1/4 cup (to make 18 cakes) onto prepared baking sheets. With the back of a spoon spread batter into 4-inch circles, leaving approximately 2 inches between each cake.
Bake 15 minutes or until they are firm to the touch. Remove from oven and let cool completely on a wire rack.
Make Whoopie Pie Filling:
Whoopie Pie Filling:
1 cup solid vegetable shortening*
1 1/2 cups powdered (confectioner's) sugar
2 cups Marshmallow Fluff**
1 1/2 teaspoons pure vanilla extract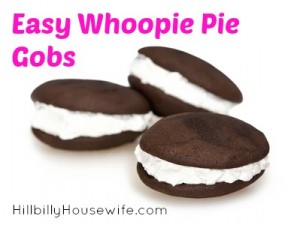 * Butter may be substituted for all or part of the vegetable shortening, although traditional Whoopie Pies are made with vegetable shortening only
When the cakes are completely cool, spread the flat side (bottom) of one chocolate cake with a generous amount of filling. Top with another cake, pressing down gently to distribute the filling evenly. Repeat with all cookies to make 9 pies. Let finished whoopie pies completely cool before wrapping.
Wrap whoopie pies individually in plastic wrap, or place them in a single layer on a platter (do not stack them, as they tend to stick).
To freeze, wrap each whoopie pie in plastic wrap. Loosely pack them in a plastic freezer container and cover. To serve, defrost the wrapped whoopie pies in the refrigerator.
Makes 9 large whoopie pies.
Disclosure: Some of the links below are affilate links, meaning, at no additional cost to you, I will earn a commission if you click through and make a purchase.