Gluten Free Sesame Chicken
I've been on a quest for the perfect gluten free sesame chicken recipe. My husband had been suffering from migraines for years. We've finally figured out that going gluten-free almost completely eliminates them. As a result, I've been playing around with a lot of gluten-free dishes. One thing we missed was the occasional Chinese take-out. Sesame chicken has always been a favorite with all three of us.
I played around with a few different recipes and different "breading". I finally figured out that for us the best combination is using boneless, skinless chicken thighs and corn starch. The corn starch is gluten-free and gives a light, crispy coating on the chicken. The chicken thighs stay moister and have more flavor than chicken breast, or tenderloin chunks.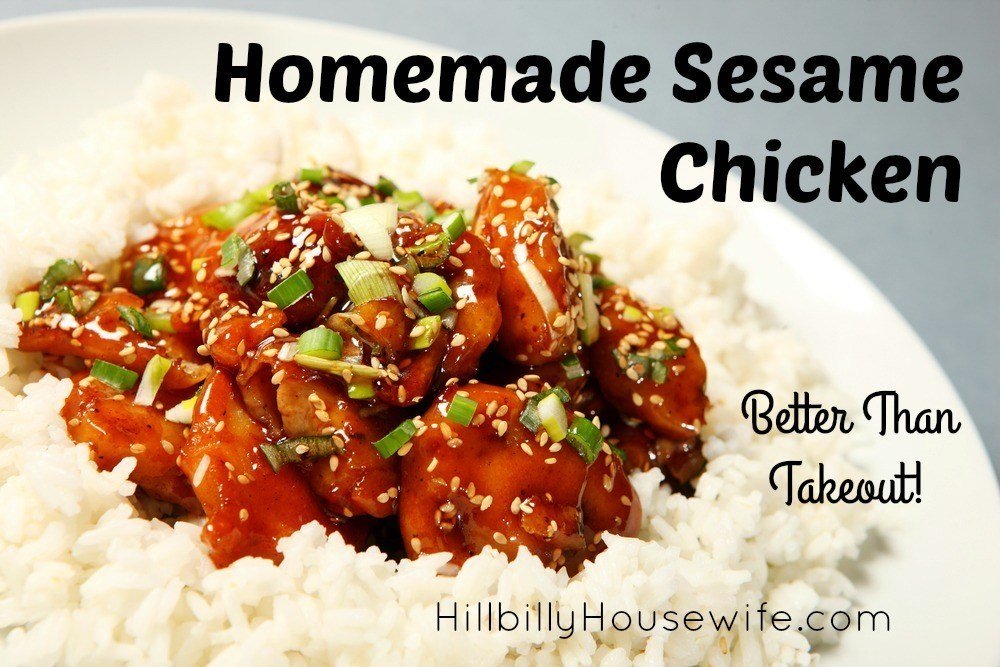 Even with the chicken thighs this doesn't seem like a particularly frugal recipe, especially the first time you make it. Gluten-free soy sauce is higher than the regular kind and you need a little sesame oil and sesame seeds. The good news is that all three of these condiments will last you for quite some time and many more batches of sesame chicken. I love topping it with a little sliced green onion, but while tasty, that's entirely optional. I grow some in my garden which makes it easy and frugal to have on hand.
I serve this sesame chicken over white rice with a side of steamed broccoli. It's always a big hit. Leftovers are delicious for lunch the next day, but don't expect that to happen often. Ours is usually gone after dinner. Yep, it's that tasty.

Sesame Chicken Recipe (Gluten-Free)
Ingredients
2 pounds boneless, skinless chicken thighs
1/2 cup of corn starch
1/2 tsp salt
1/2 tsp pepper
vegetable oil
Sauce
4 tbsp honey
4 tbsp soy sauce
3 tbsp rice vinegar
1 clove of garlic
1 small chunk of ginger.
2 tsp toasted sesame oil
1 tbsp sesame seeds
Garnish
green onion (optional)
more sesame seeds (optional)
Instructions
Cut your chicken into bite-sized chunks. Combine the corn starch, salt and pepper in a medium-sized bowl, or a large Ziploc bag. Add the chicken chunks and mix until all chicken is coated well in the corn starch mixture.
Peel and chop the garlic and ginger finely. Combine all the sauce ingredients in a small bowl and set aside.
Heat the vegetable oil in a large pan on medium high heat. Fry the chicken in several batches until it is nice and crispy and completely cooked (about 7 minutes). Remove the chicken from the pan and pour out the oil.
Pour the sauce in the pot and cook over medium heat for a few minutes. You want to bring the sauce to a full boil and let it thicken slightly. Add the chicken to the sauce and cook for a few minutes to heat it back through.
© 2023 Copyright www.HillbillyHousewife.com
Serve over hot cooked rice with a side of steamed broccoli. I sprinkle thinly sliced green onion and more sesame seeds on top as a garnish of sorts.
The key to this dish is the sesame oil and sesame seeds. You can find them in the Asian section of your local grocery store. The sesame oil can be a bit pricey, but you'll only use a small amount each time you make this dish. Well worth it.
Want to pin this recipe? Here's another pretty picture of the sesame chicken, perfect for Pinterest.
Disclosure: Some of the links below are affilate links, meaning, at no additional cost to you, I will earn a commission if you click through and make a purchase.