Garbanzo And Kidney Bean Rice Salad
This is an easy summer recipe and also comes in handy when the power goes out (or it's just too hot too cook). I love it served at room temperature, but leftovers are great straight from the fridge the next day. For a portable lunch, try wrapping some of this in a flour tortilla for a yummy veggie wrap.
1/2 can (15 ounce can) garbanzo beans, rinsed and drained
1/2 can (15 ounce can) kidney beans, rinsed and drained
1 1/4 cups cooked rice
2 tablespoons chopped onion (or 1 tsp onion flakes)
1/4 cup rice vinegar
1/2 cup olive oil
In a bowl, combine all ingredients and stir until mixed well.
Serve immediately at room temperature or slightly cooled if possible.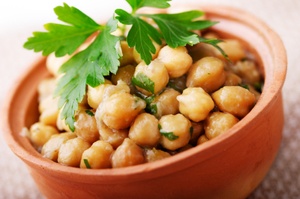 Disclosure: Some of the links below are affilate links, meaning, at no additional cost to you, I will earn a commission if you click through and make a purchase.