Fruit Juice Soda Pop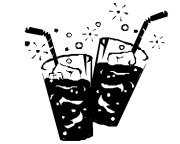 12 ounce can fruit juice concentrate, either frozen or canned
1 liter Club Soda
Pitcher, Ice & stirring stick
If the fruit juice concentrate is frozen, then allow it to melt before preparing this recipe. You may use any flavor of juice you like. Purple Grape juice is especially good prepared this way. Pour the liquid fruit juice concentrate into a 2-quart pitcher. Pour in 1 liter of Club Soda. Do not use Tonic Water, be sure to buy only plain Club Soda. Use your stick to gently stir the soda and fruit juice together. Pour over tall glasses of ice and serve with a straw.
This is a great inexpensive drink recipe, as is my famous lemonade recipe.
Disclosure: Some of the links below are affilate links, meaning, at no additional cost to you, I will earn a commission if you click through and make a purchase.