Frugal Breakfast Foods
If you are a regular on the site, you already know that some of my favorite frugal breakfast items are homemade muffins and oatmeal. Pricewise almost nothing can beat either one of them, but if you are looking for a little more variety for that all-important first meal of the day, try some of these ideas instead. They are a much more economical option that hitting the drive-through of your favorite fast-food place but still give you some of that same taste (just better of course because it's homemade.
1. Have a piece of breakfast casserole. It takes time to cook eggs and bacon for breakfast. No one wants to ruin their clothes with the mess it can create. On Sunday night, get breakfast done early. Put together a casserole using your favorite ingredients. Fewer eggs are needed in a casserole than when frying or scrambling them for breakfast each morning. Depending on the size of your family, the casserole may last two to three mornings.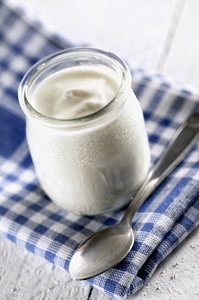 2. Yogurt. Yogurt is a healthy and economical breakfast choice. When you are eating on the run, grab a container of yogurt and some dried or fresh fruit. Cutting up fruit on top of the yogurt adds carbohydrates to fuel you for the morning in addition to the calcium and protein in the yogurt itself. You can even make your own yogurt.
3. Breakfast shake. This is even quicker and can be ingested while driving without taking your eyes off the road or both hands off the wheel. Put together some frozen fruit favorites, ice cubes, frozen yogurt, and unsweetened juice in a blender. Pour into Styrofoam cups to keep it cold. Everyone can grab a cup on the way out the door. The nutritional effect is about the same as yogurt, but without the spoon.
4. Pigs in a blanket. This is the homemade version. Whip up a batch of pancakes and freeze them in short stacks of three. A package or two of frozen link sausage is needed to create this quick and economical meal idea. Thaw out a stack of pancakes. Heat up three sausages in the microwave. Wrap a pancake around each sausage. Voila! You�ve got an instant pig in a blanket. Eat it as you watch the last of your favorite morning show or as you walk to the bus stop. It can be eaten in the car without too much fuss or mess. For a sweeter taste and less mess, add a little maple syrup or honey to the batter when making the pancakes.
5. Breakfast sandwiches. In the evening, while you are getting things ready for the next day, grill up a few breakfast sandwiches. Choose whatever you like: turkey slices, ham slices, cheese, tomato, bacon, etc. When the sandwich cools, cut it into bite size pieces and put it in a container. In the morning, just grab a container; pop it into the microwave for fifteen or twenty seconds and breakfast is served.
These breakfast ideas are time saving and money-saving too. They make use of items you buy normally and also whatever you have around the house to create delicious fare for a morning rush. No more excuses for skipping breakfast or swinging into the fast food restaurant every morning.
Disclosure: Some of the links below are affilate links, meaning, at no additional cost to you, I will earn a commission if you click through and make a purchase.