Fried Rice with Vegetables
One of my favorite things about this recipe is that it is so versatile. Serve the veggie fried rice as a main dish or lunch, or as a side when you're making fish or baked chicken. 
Vary the veggies depending on what you already have at home, what's on sale at the store or what's in season to make this even more frugal.
If you're making this as a main dish, consider scrambling up some eggs and pouring them in once the veggies are pretty close to being done. Continue cooking, stirring constantly until the egg is done to your liking.
Veggie Fried Rice
Ingredients
2 cups cooked rice
1 Tbsp vegetable oil
1/2 cup frozen broccoli florets, thawed and drained
1/2 cup frozen peas, thawed and drained
3 tsp soy sauce
2 tsp sesame oil
1/2 cup chopped fresh green onions, including tops
Instructions
Put a large heavy skillet over medium heat, add vegetable oil and heat well, then add rice, stirring until light golden in color.
Add in the broccoli and peas, stir and cook until vegetables are tender, about 3 minutes.
Add the soy sauce, sesame oil, and green onions, stir until ingredients are all hot.
Serve immediately.
Use gluten free soy sauce to make this a gluten-free dish.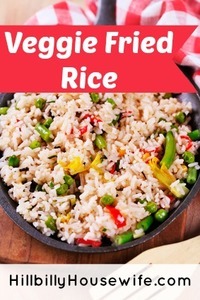 Disclosure: Some of the links below are affilate links, meaning, at no additional cost to you, I will earn a commission if you click through and make a purchase.