Freezer Pie Crust Dough
There are a lot of ways to use up leftovers, but one of the best ways I know is making a Pot Pie.  Why?  Because the leftovers are almost unrecognizable in a golden brown, flaky pie crust!
It seems that no matter what ingredients I have on hand, when I remember I have pie crust dough in the freezer, I immediately know what to make.  And no one has complained yet.  Yes, I think we can credit the golden flaky crusts.
Of course, having the pie crusts ready and waiting in the freezer is also inspiration for dessert.  If you freeze fruit or berries, too, you can reach into the freezer in the morning and have a delicious pie cooling in the kitchen to enjoy after dinner.
Give this simple recipe a try, stock your freezer, and let me know if having pie crust dough ready when you want it helps you plan and prepare meals and desserts.
Recipe Type:
freezer, dessert, pie
Author:
Ingredients
2 cups sifted all-purpose flour
1 tsp salt
3/4 cup shortening
4 to 5 Tbsp ice water
plastic food wrap
2 freezer bags
Instructions
Place the sifted flour and salt together in a large mixing bowl, add the shortening and cut in with a pastry cutter until mixture become crumbly.
Add 1 tablespoon of the ice water at a time to the dough mixture and toss with a fork, add 1 tablespoon more, toss with a fork, until a dough forms that sticks together when pressed between your fingers.
Form a dough ball, then divide it in half, reform the ball, and flatten slightly.
Wrap each dough ball with plastic wrap, then place each in freezer bag, zip to seal.
You can keep the dough in the freezer for up to 2 months.
When ready to use, remove from freezer and allow to come to room temperature, then remove from plastic bag and wrap and roll out as desired.
If for any reason plans change and you don't use the thawed pie crust dough right away, go ahead and store it in the refrigerator.  It will keep for about a week more.  Just wrap tightly again in the plastic wrap and freezer bag.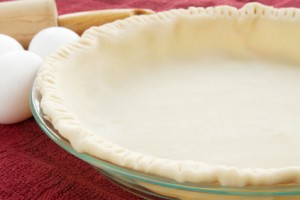 Disclosure: Some of the links below are affilate links, meaning, at no additional cost to you, I will earn a commission if you click through and make a purchase.