Floating Islands (Floats) Recipe
I have been looking for a recipe that my grandmother used to make. She just called it Float. I know it takes milk and eggs and sugar. Beyond that, I am just lost. I asked her once for the recipe and she said she really didn't have one. I tried her directions and it was okay, but it sure wasn't my grandmother's Float. Can anyone help me?

Zola Sherman
From The Hillbilly Housewife 
I did a little research and the only thing I can come up with is something called Floating Islands. It's an old french dessert that consists of a meringue floating (or swimming) in a vanilla sauce.
Floating Islands
Ingredients
3 eggs
1/2 cup white sugar, divided
1/4 teaspoon salt
1 1/2 cups whole milk
1 teaspoon vanilla extract
Instructions
Separate two of the eggs and put the yolks together with the whole egg, 1/4 cup of sugar, and the salt into a double boiler. Whisk until smooth, then whisk in the milk. Stirring constantly, cook the egg and sugar mixture over simmering water until it starts to thicken. Remove it from the heat and add the vanilla extract. Allow it to cook, then move it into the fridge.
Again using a double boiler, whisk the egg whites and remaining sugar. Heat the mixture over simmering water until the eggs start to get hot. Remove the bowl from the heat and beat the egg whites until they form stiff peaks.
Pour the chilled custard into bowls and top with spoonfuls of the meringue. Chill before serving.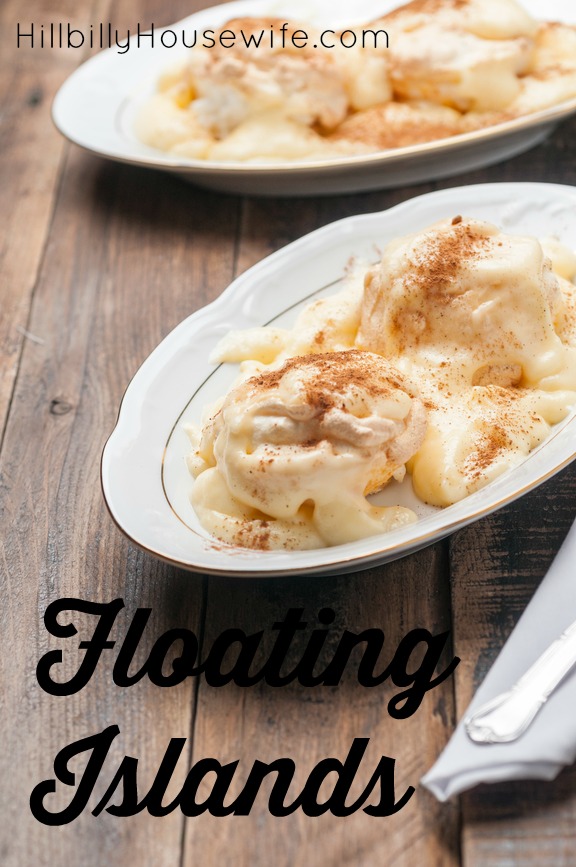 Disclosure: Some of the links below are affilate links, meaning, at no additional cost to you, I will earn a commission if you click through and make a purchase.