Extending Ground Beef
Do you remember when you could find ground beef on sale for 99 cents? I miss those days. Now I'm lucky to find ground chuck for $4.99 a pound. That's a big difference and now more than ever it's important to stretch that meat. That's why I thought it was about time to re-visit this frugal tip on making due with less.
Tip From A HBHW Reader:
When I'm making a recipe that calls for ground beef (e.g. Sloppy Joes), I use half the amount called for and substitute cooked pinto beans, refried beans, and/or shredded potatoes for the other half.
It's a really good tip and something I've done for years. It's easy to use half when you're making soup, stew or chili. Just add more vegetables to make up the difference.
When we make sloppy joes, or burgers, I replace half the ground beef with cooked lentils. This also works well with meatloaf. With spaghetti we like black beans. Some weeks, I completely replace the ground beef with black beans, sometimes we do half and half.
Using homemade beef or even chicken stock in your soups, stews and sauces adds a lot of flavor so  you don't miss the meat as much.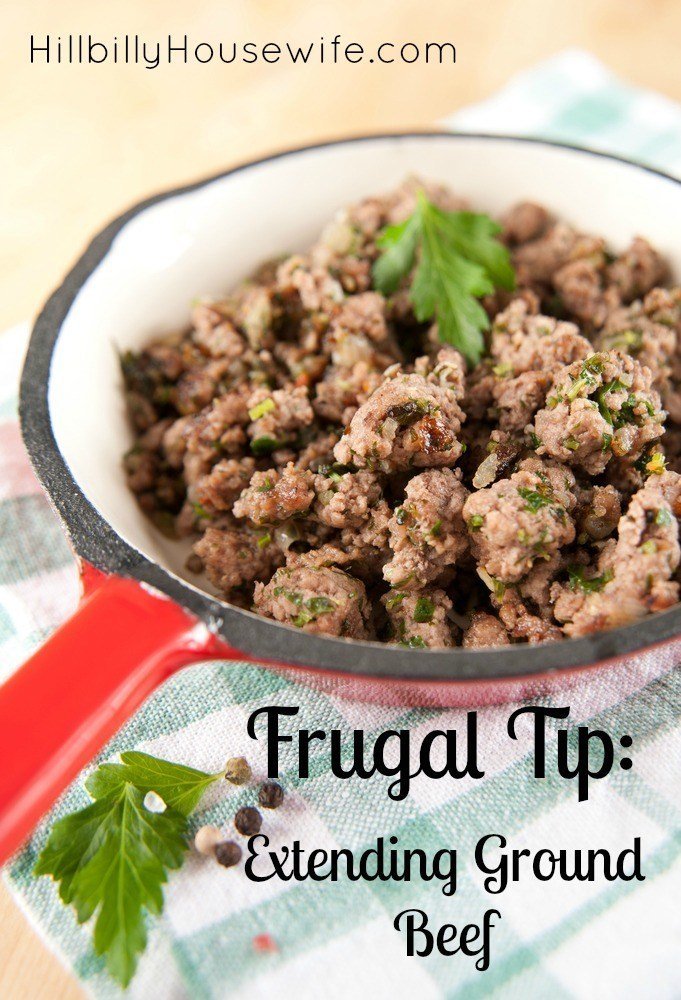 Highly Recommended – Penny Pinching Mama
Find out how Jill Cooper lived on $500 per month. This e-book is filled with over 500 practical, everyday ideas to help anyone stretch a small income.
Get your copy today at:
www.HillbillyHousewife.com/penny
Disclosure: Some of the links below are affilate links, meaning, at no additional cost to you, I will earn a commission if you click through and make a purchase.