Emergency Pets Packs
In an emergency we can all become overwhelmed. Our first thoughts are to gather our family and our supplies to get to safe ground. Many times we panic and no one is functioning very well. Therefore, it's no surprise our pets often suffer during this turmoil.  That's why it is so important to plan for your pets' safety along with your own.
In the midst of a disaster, when our thoughts are scattered, we want a simple plan to fall back on so everyone, including our furry family members, are kept safe.  Here are some basic guidelines for planning your pets' safety during an emergency situation.
What to Pack for Your Pet
You may already have your personal emergency evacuation packs ready for each of your family members but did you think about your pets? It's good advice to have one prepared for each member of your household, and your pet is no exception. Preparing a pack before you actually need it will take the guess work out of what to grab if you need to evacuate in a hurry.
What should you put in your pet pack? Here's a list of recommendations. Of course, your pet may require other items as well, so use this as a guide.
Water
Pets drink a lot of water when they're stressed out. So, even though your pet may be smaller than you they will need lots of water.
Food
Pack several days' worth of dry pet food in single servings in small plastic ziploc bags.
Food/Water Containers
Collapsible dishes don't take much room so I recommend getting this Folding Collapsible Travel Food & Water Bowl for Pets Dogs Cats
.
Copies of Prescriptions and Medications
If you have a pet who regularly takes medication you will want to be sure to pack it so you pet won't have to do without.
Copies of Medical Record
Include a photo copy of your pets medical records, including immunizations and shot records.
Portable Kennel or Pet Carrier
You will do yourself and your pet a favor by having a kennel or carrier handy, to keep pet safe and secure. Guardian Gear Collapsible Dog Crate
is a good option.
Towel
You want to have one in case your pet gets wet or dirty.
Harness or Leash
In emergency situations pets may panic, so keep a leash handy.
Blanket
In harsh weather conditions you want to be able to keep your pet out of the elements.
Toys and Chewies
Help your pet relieve stress and anxiety while waiting out the disaster by having something to play with.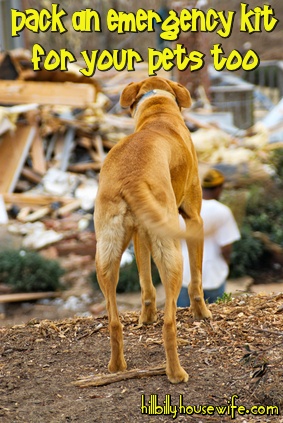 Identification for Lost Pets
During a disaster your scared pet may run away, get disoriented and not be able to find his way back home. Pets without ID tags are rarely returned to their owners in the case of evacuation. The stories of pets walking hundreds or thousands of miles to return to their home are extremely rare.  They make good headlines, but they don't tell the story of the millions who never return because they don't have any identification. So one of the most important thing to do for your pet is to be sure he or she wears a collar with ID tags.
The best method of identification for your pets is the micro-chip. A tiny identification chip is inserted just under the skin with a hypodermic needle by your vet.  It's relatively inexpensive and you won't have to worry about making sure your pet keeps his collar on that he loves to shed whenever he gets the chance. Many vets will do the micro-chip during another service for a discount. Then you register your pet's micro-chip online.
If anyone finds your pet they can take him to any veterinary office where they will run a scanner over the skin, just like at the grocery store.  If there's a micro-chip, the scanner will read the number, which will be sent to the online database which has your information.  Then they will then contact you with to let you know where your pet is being kept.
Keep your pets' emergency pack right along with your family's packs. This way you won't have to worry about what to grab for your pet because everything is already in there.
Just remember, your pet can't ask for what they need, so it's your job to provide it by planning ahead.
Disclosure: Some of the links below are affilate links, meaning, at no additional cost to you, I will earn a commission if you click through and make a purchase.