Egg Muffin Cups – Portable and Healthy Breakfast
One of the hardest things for me to do is to eat within an hour or so of waking up. I just don't have the appetite and definitely don't feel like cooking yet.
In the past I've done well by just grabbing a bar or drinking a shake. But with this whole foods thing it usually involves cooking eggs and the likes.
What's a girl to do? Make the eggs ahead of time in a convenient, portable form. I'd been making breakfast casseroles and fritatas for a long time. Cooking my scrambled eggs with some veggies in a muffin pan was a no brainer.
I whipped up these egg muffins last night. It was quick and easy to do. The hardest part was scrubbing the muffin pan when I was all done.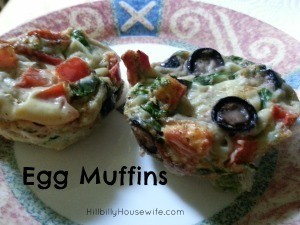 They make a great portable snack or a grab and go breakfast. I made mine with sun dried tomatoes, red bell peppers, spinach and black olives, but feel free to use your favorite omelet ingredients instead.
Egg Muffin Cups – Portable and Healthy Breakfast
Ingredients
9 eggs
5 sun-dried tomatoes (diced)
1/4 cup of diced bell peppers
1 small can of sliced black olives
1 to 1.5 cups chopped spinach
coconut oil
Instructions
Preheat your oven to 325.
Grease a muffin pan with coconut oil.
Get out a large bowl and crack the eggs into it. Whisk them until smooth.
Add the veggies and give everything a good stir.
Pour the mixture evenly into a muffin tin that makes 12 regular muffins. I used a 1/2 cup measuring cup to make it easier to transfer the egg mixture.
Bake for 25 to 30 minutes or until the egg is set and the tops start to get golden brown.
Allow to cool for a few minutes before removing the egg muffin cups from the pan.
Allow them to cool completely before storing them in the fridge.
These egg muffins can be eaten cold, at room temperature or reheated in the microwave.
Disclosure: Some of the links below are affilate links, meaning, at no additional cost to you, I will earn a commission if you click through and make a purchase.