Easy Tortilla Crust Pizza
I have a busy schedule and pizza is always an option but ordering out still takes a while for delivery so one day I made pizza using tortillas instead of dough..
Spray your pan with non stick cooking spray….place tortilla on pan add sauce …whatever you like on it…and cheese…place in oven 400…til cheese is melted and tortilla is crisp usually about ten min…and now you've got a prefect thin crust pizza…no more store bought our call in delivery for us….you can also make ahead and freeze the pizza..just place pan in freezer till frozen and put in freezer bag…when want pizza just spray pan and their it in oven..so simple.
(Thank you, Pauline Brookins, for sharing this super easy thin crust pizza recipe.)
My Thoughts on Homemade Tortilla Pizza
I've made these in the past, but completely forgotten about them. We had them for dinner last night. I used store-bought tortillas last night, but you can certainly make them with homemade flour tortillas as well.
Author:
Ingredients
flour tortillas
pizza sauce
toppings
shredded cheese
Instructions
Heat your oven to 400 F.
Put a flour tortilla on a pizza pan. Spread tomato or pizza sauce on the tortilla then add your favorite toppings and cheese.
Bake for a few minutes until the cheese is melted and bubbly and the edges of the tortilla start to brown.
I made these last night. Here are a few pictures:
Let's start with some Salami Pizza.
Before baking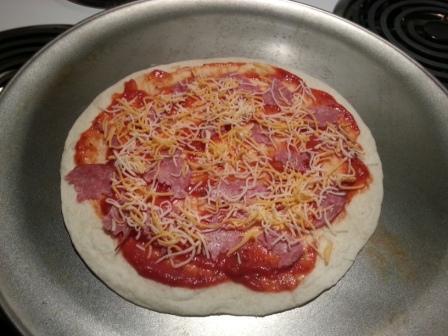 And here's what it looked like when it came out of the oven.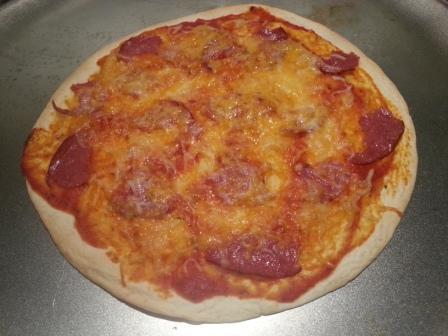 This one is very kid-friendly. You could also use pepperoni or make just cheese pizzas.
For myself, I got a little more adventurous with black olives, ham and fresh basil leaves.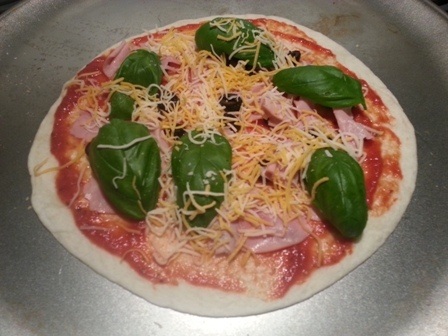 Here's what it looked like when it came out of the oven… the basil didn't look so pretty, but still tasted really good. I think I'll add them only at the last minute of baking next time I make these.
The Pizzas where a big hit for dinner and we'll be making them again very soon.
Disclosure: Some of the links below are affilate links, meaning, at no additional cost to you, I will earn a commission if you click through and make a purchase.