Easy Pumpkin Pie Recipe
It wouldn't be fall without some delicious pumpkin pie. This recipe is as easy as it is scrumptious. If you've never made pie from scratch, give it a try. You can use a prepared crust or make your own using this pie crust recipe.
The following recipe is from the "Pie Recipes from Scratch" book. I hope you and your family will enjoy it this Holiday Season.
Author:
Ingredients
1 cup plain pumpkin puree
3/4 cup sugar
1/2 tsp salt
1/2 tsp ground ginger
1 tsp ground cinnamon
1/2 tsp ground cloves
3 eggs, beaten with a fork
1 cup cream
Instructions
Prepare a single pie crust, unbaked.
Preheat oven to 450 degrees (will reduce heat to 325 degrees.)
In a large bowl, stir together the pumpkin, sugar, salt, ginger, cinnamon, and cloves, until well combined.
Whisk in the eggs and the cream into the mixture until smooth.
Pour mixture into pie crust.
Bake in preheated oven at 450 degrees for 10 minutes.
Turn oven down to 325 degrees and continue baking for 40 to 45 minutes or until pie filling sets up and knife comes out relatively clean when inserted in center.
You can lay foil strips over the crust after they brown to prevent them from burning.
Remove pie from oven and let cool at room temperature before slicing.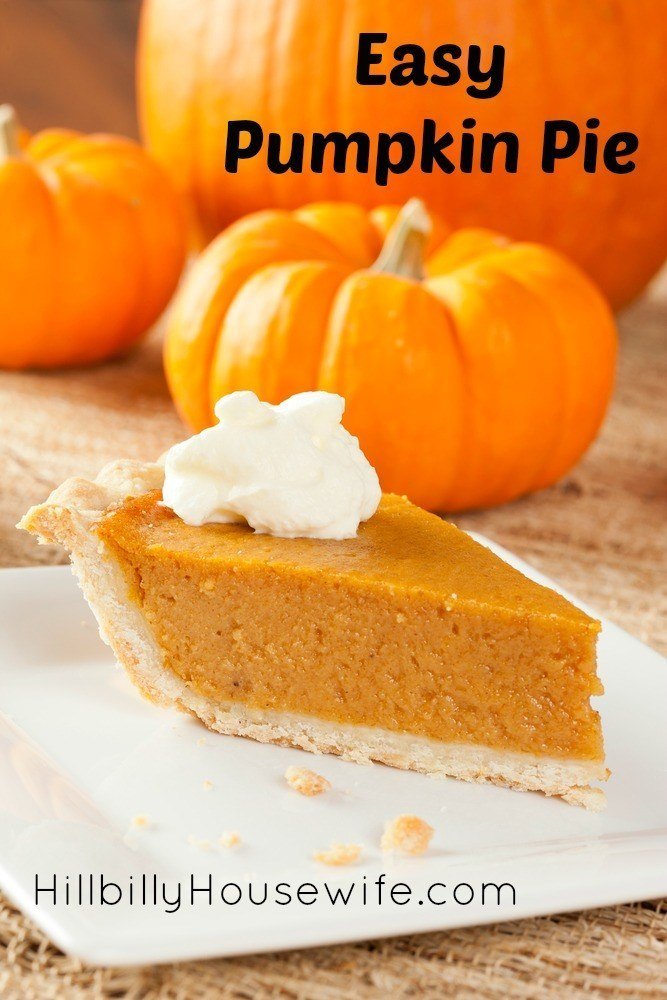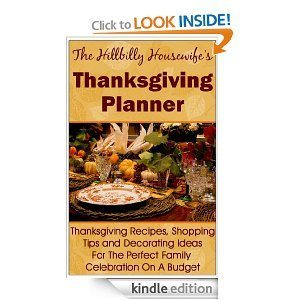 The Hillbilly Housewife Thanksgiving Planner
Don't run around like a chicken (or should that be turkey?) with its head cut off on Thanksgiving morning. The Hillbilly Housewife's Thanksgiving Planner will help you plan ahead and stay on top of things so you can actually enjoy Thanksgiving with your family & friends.
If you take a quick minute to read the first chapter you'll realize how easy your Thanksgiving celebration will be. There are plenty of tips and ideas to make sure this year's feast doesn't stretch your budget to the breaking point, too.
There are also 2 bonuses tucked inside: A printable planner & checklist and all of the recipes in a printable pdf file.
http://www.amazon.com/The-Hillbilly-Housewifes-Thanksgiving-Planner-ebook/dp/B00A81OQ56
Disclosure: Some of the links below are affilate links, meaning, at no additional cost to you, I will earn a commission if you click through and make a purchase.