Easy Mango Smoothie Recipe
I love smoothies for breakfast on a warm summer day. Here's one of my favorites. You can make it with fresh or frozen mango chunks. If you're using frozen, you can skip the ice.
1/2 cup orange juice
1/2 cup fresh mango chunks
sweetener to taste
1/2 cup ice
Put all ingredients into your blender and blend until smooth. I start without sweetener. Most of the time the sweetness in the Orange juice is enough to balance out the tartness of the Mango. If you want it a little sweeter, try adding a bit of sugar, honey or your favorite low-calorie sweetener.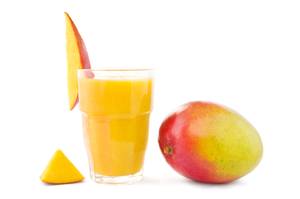 For more delicious Smoothie recipes, get a copy of the Hillbilly Housewife's Smoothie Recipe book on Kindle.
Disclosure: Some of the links below are affilate links, meaning, at no additional cost to you, I will earn a commission if you click through and make a purchase.