Easy Disposable Baby Wipes
Put a 1/2 paper towel roll in a plastic container that you can find at the grocery store that will fit it perfectly.
Mix together and pour in the center of Bounty paper towel roll that has been cut in half:
2 cups water
2 Tbsp. Baby Wash
3 Tbsp. Baby Oil
Once the cardboard roll softens from the liquid, just pull it out and then pull towels out from the center.
This was submitted by Debby Hall of InteriorDecoratingToday.com
Thank you Debby!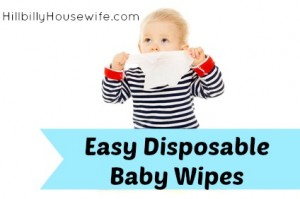 Disclosure: Some of the links below are affilate links, meaning, at no additional cost to you, I will earn a commission if you click through and make a purchase.