Easy Black Bean and Rice Recipe
This is such a great simple dish. It goes together quickly and is very filling. I serve it with a side salad for a weeknight dinner or with some grilled chicken or fish in the summer. We also often double the recipe, add a simple green salad and call it dinner. It's quick, filling and cheap.
Black Beans And Rice
Prep time:
Cook time:
Total time:
Ingredients
1 Tbsp. vegetable oil
1 medium onion, chopped
1 can (14 1/2 ounces) stewed tomatoes
1/2 tsp. garlic powder
1 tsp. oregano, dried
1 can (15 ounces) black beans, undrained
1 1/2 cups instant brown rice, uncooked
Instructions
Heat oil over medium high heat in a large saucepan. Add the onion and cook until tender. Now add the remaining ingredients and bring to a boil. Add the rice and mix well. Cover the saucepan with a lid, reduce heat and let simmer for 5 minutes. Remove from heat and let stand for 5 minutes before serving.
Recipe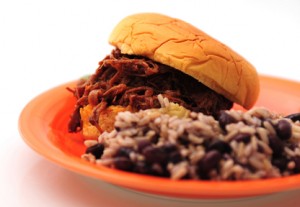 Ready to cook some beans? Not only are beans a great way to add high quality nutrients to your family's diet, but they are versatile too. You can easily adjust flavoring or start out with a big pot of pintos to have with corn bread the first night, then turn them refried beans for bean burritos the following night.
You can use them as a main dish by serving them over rice, with tuna or serve them as a side dish. Here are 35 savory bean recipes from simple frugal dinners to dishes you can make for company.
Get your copy of the Thrifty Bean Cookbook today and start cooking.
Disclosure: Some of the links below are affilate links, meaning, at no additional cost to you, I will earn a commission if you click through and make a purchase.