Easy Baked Brie With Cranberry Orange Glaze
1 package of refrigerated crescent rolls
1 round or wedge of Brie cheese (do not remove rind)
1/2 to 1 cup leftover cranberry orange relish (depending how much Brie you use)
2 Tbsp butter, melted
sprinkle of light brown sugar
Preheat oven to 350 degrees F, and lightly spray a cookie sheet or cover with parchment paper.
Unroll the crescent rolls on the cookie sheet, pinching the perforations closed.
Set the Brie on top of the dough.
Top the Brie evenly with the leftover cranberry orange relish. Pull the dough up over the Brie, with the seams facing up, cutting off the extra dough as you go.  Pinch the seams together.
Drizzle melted butter over the dough (or brush it on) and sprinkle the brown sugar on top.
Bake at 350 degrees for 25 to 30 minutes or until the pastry is golden brown.
Remove and let stand at room temperature for 8 to 10 minutes.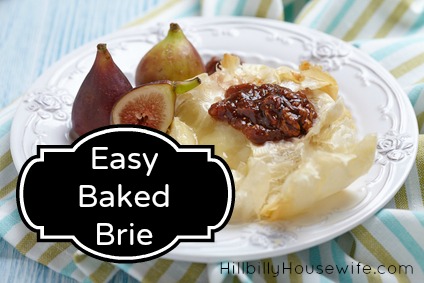 Disclosure: Some of the links below are affilate links, meaning, at no additional cost to you, I will earn a commission if you click through and make a purchase.