Easy Baba Ganouj Dip
Baba Ganouj is a yummy and healthy middle eastern dip you've got to try. I've stayed away from this in the past because I'm a) not a huge fan of eggplant and b) it seemed a little too involved having to roast a whole eggplant first. I've enjoyed making the much easier version below and I hope you will as well.  If you don't have tahini or are looking for a slightly more frugal way to make this, try using some unsweetened peanut butter instead. I prefer the baba ganouj with tahini, but the pb will do in a pinch. I serve this with pita, crackers or some cut up raw veggies.
Baba Ganouj
Ingredients
1 eggplant
2 cloves garlic
2 teaspoons dried parsley
1/4 cup tahini
2 tablespoons lemon juice
1 tablespoon olive oil
Instructions
Preheat your oven to 400 F.
Cut the eggplant into 2 inch chunks, wrap them in foil and bake in the oven for approximately 15 minutes, or until the flesh is soft. Remove from oven and let cool.
Remove the skin from the cooled eggplant and place it in a blender. Add the garlic, parsley, tahini, lemon juice and olive oil. Blend until smooth.
The dip tastes great right away, but letting the flavors blend in the refrigerator for a couple hours will be even better.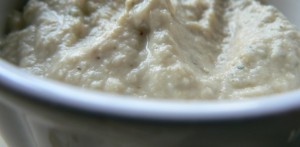 Disclosure: Some of the links below are affilate links, meaning, at no additional cost to you, I will earn a commission if you click through and make a purchase.