DIP FOR FRIED GREEN TOMATOES
This dip goes perfect with your favorite fried green tomato recipe. It is quick and easy to put together, but really gives this popular southern appetizer the little something extra. Perfect for company but easy enough to mix up just for yourself.
Dip For Fried Green Tomatoes
1/2 cup of Miracle Whip Dressing
1/3 cup of Ranch Dressing
1 small onion, chopped
1/4 teaspoon Italian Seasoning the powdered kind in the spice jar
1/3 teaspoons dried parsley
Mix and chill and use over fried green tomatoes. This is a recipe you work with. You can add more miracle whip and ranch dressing or less, just add what you like.You can add the spices a little at a time to you get the right amount. More or less.We eat this with fried green tomatoes on top of them or you can eat it with cucumbers as a dip or can be used for different things. Keep refrigerated and use within a few days.
The Hillbilly Housewife Recommends:  Secret Restaurant Recipes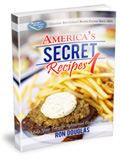 Don't spend a fortune going out to eat. Instead enjoy some of your favorite restaurant fare at home for a fraction of the cost.
These recipes are also perfect for dinner parties or a fun and special family dinner.
Get your copy today at:
Disclosure: Some of the links below are affilate links, meaning, at no additional cost to you, I will earn a commission if you click through and make a purchase.