Deep Dish Pie from Canned Peaches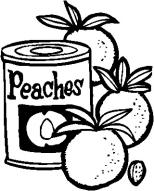 Crust:
1 cup flour
1/4 teaspoon salt
1/3 cup shortening
3 tablespoons cold water
Filling:
2 – 29 ounce cans of peaches
2 cups juice from the canned peaches (add water to make 2 cups if necessary)
1/4 cup cornstarch
1/2 cup sugar
1 tablespoon lemon juice
1/4 teaspoon nutmeg
First prepare the crust. In a large bowl combine the flour and salt. Add the shortening, and mash it into the flour until it is crumbly. Add 3 tablespoons water and stir to combine. Now use your hands to press everything together to try and form a ball of dough. If it is too crumbly, then add more water a little at a time. You may not need any water. You may need another tablespoon, maybe even more. Keep pressing and gently kneading the mixture together until you get a stiff pie dough. Rip off two sheets of waxed paper. Place the ball of dough between the sheets and flatten it some with your hands. Use a rolling pin, or sturdy bottle or jar to roll the dough out between sheets of waxed paper. Work slowly and diligently, trying to make a large rectangle, a little bigger than your baking pan (I use a 9 by 9-inch square pan, but a 2-1/2 quart casserole would also work very well). It doesn't have to be perfect, so just do your best and don't worry about it. When you are done, set the dough (still wrapped up in the waxed paper) aside while you prepare the rest of the recipe.
Drain the juice from the canned peaches into a measuring cup. If you have more than 2 cups of liquid, you can drink or discard the extra (I put it in kool-aid usually). If you don't have 2 cups of liquid, then add enough water to make 2 cups.
In a very large saucepan, combine the cornstarch, sugar and nutmeg. Gradually stir in the peach liquid, and the lemon juice. Stir to dissolve the cornstarch. Heat the mixture over a medium flame, stirring very frequently. You could even stir constantly, if you had a mind to. Bring the mixture to a boil and boil for at least a minute, or until the mixture is very thick. Remove the pan from the heat and gently stir in the canned peaches. The mixture will thin out some. Turn the thick peach filling into a well oiled 2-1/2 quart casserole dish, or an oiled 9 by 9-inch square pan.
Loosen the waxed paper on both sides of the rolled out crust. Arrange it carefully on top of the filling. Crimp the edges if you have enough dough, otherwise, just let them lay where they fall. Score the dough into 6 servings. Bake it at 425° for about an hour. The top will be golden brown, the filling will be bubbly, and it will be very hot. Allow it to cool for a little bit before serving. Great with whipped topping or vanilla ice cream. This is a delicious way to make a very elegant dish out of inexpensive canned peaches.
Disclosure: Some of the links below are affilate links, meaning, at no additional cost to you, I will earn a commission if you click through and make a purchase.