Cucumber Salad With Ginger
Here's a salad that's as simple as it is delicious. It's perfect when you are grilling in the backyard or for picnics. Since there is no mayonnaise etc, there is no need to worry about it spoiling to quickly in warm weather.
4 medium size fresh cucumbers, peeled
1/3 cup rice vinegar
1 tsp honey
1 tsp kosher salt
1 1/2 tsp grated ginger root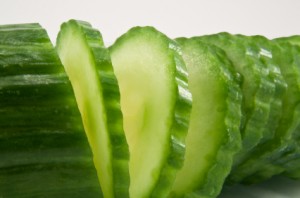 Cut cucumbers in half lengthwise and remove any large seeds and extra pulpy flesh if necessary.
Slice into very thin pieces, crosswise, into crescent shapes.
In a bowl whisk together the vinegar, honey, salt, and ginger.
Add the cucumbers to the bowl and toss together until well coated.
Cover and refrigerate for at least an hour before serving so the flavors blend well.
Serves 2 to 4.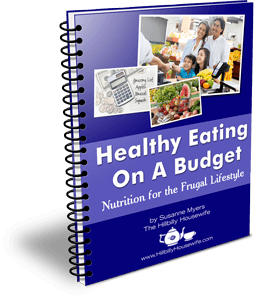 For more delicious healthy recipes that fit your budget, grab a copy of my ebook Healthy Eating On A Budget
Preparing healthy food for my family while still staying within a budget can be hard.  To make things simpler, I've done a little bit of research to figure out which budget friendly foods are ALSO healthy.  Once I had my list created, I started to gather some of my favorite recipes together so I we wouldn't get bored eating the same old beans, rice & eggs and I'm happy to share it with you today…

Just click on Healthy Eating On a Budget to order your copy today!

http://www.hillbillyhousewife.com/ebooks/healthybudget.htm
Disclosure: Some of the links below are affilate links, meaning, at no additional cost to you, I will earn a commission if you click through and make a purchase.