Cucumber Dill Dip
This is my favorite go to dip for the summer. The flavors are fresh and delicious and it goes with just about anything. It's quick and easy to throw together and best served with some fresh veggies. Perfect for a summer cookout or even a light lunch or after-school snack. This is always a favorite around here. The recipe is from my latest Kindle Cookbook "My Best Dip Recipe" available on Amazon.com.
Cucumber Dill Dip
Prep time:
Cook time:
Total time:
Ingredients
1 (8 oz.) package cream cheese, softened
1 cup sour cream
1 cup mayonnaise
1 cup chopped green onions
1 medium cucumber, peeled, seeded, and chopped
1 Tbsp. fresh parsley, chopped
1 Tbsp. fresh dill, finely chopped
1 Tbsp. fresh lemon juice
1/4 tsp. salt
1/4 tsp. white pepper
Instructions
Put all ingredients into a food processor and process until mostly smooth. Pour into a covered bowl and refrigerate for at least 2 hours before serving.
If you don't have a food processor, grate the cucumber and mix together with the remaining ingredients in a bowl. This also makes a wonderful salad dressing.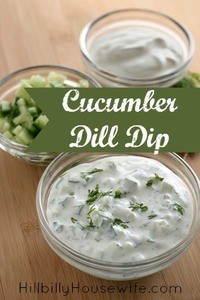 Disclosure: Some of the links below are affilate links, meaning, at no additional cost to you, I will earn a commission if you click through and make a purchase.