Crockpot Minestrone Soup
1 small onion, chopped
2 large carrots, peeled and thinly sliced
1 medium zucchini, sliced 1" thick
2 cloves garlic, minced
2 15 oz cans kidney beans, drained
6 cups beef broth
1 28 oz can diced tomatoes, undrained
1 t dried basil leaves
½ t. dried oregano leaves
½ t. salt
¼ t. pepper
2 cups cooked small pasta
¼ cup grated Parmesan cheese
Combine all ingredients except macaroni and Parmesan cheese in the stoneware. Cover cook on Low 8 to 9 hours or on High 4 to 5 hours. Stir in macaroni. Serve sprinkled with cheese. I substitute 1-1/2 t. Italian seasoning for the basil and oregano.
Submitted by HBHW reader Susan S.
Don't forget to browse through the rest of our crockpot recipes, including this crockpot French onion soup recipe.
For even more delicious homemade soup and stew recipes, don't miss this Kindle Cookbook: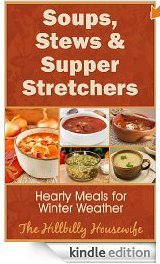 We all have favorite comfort foods that we make over and over to warm us up during cold weather. It's nice to have a few classic dishes to fall back on, but isn't it also fun to find new favorites?
That's exactly what you get in this fun little Kindle ebook – Soups, Stews, and Supper Stretchers
You'll find hearty, filling meals to make you feel cozy and warmer when the weather is gloomy, cold, and dark. Whether you're snowed in or it won't quit raining, these dishes will have you feeling brighter in no time.
Pick it up today and enjoy a warming bowl of comfort food anytime you try one of these recipes.
Soups, Stews and Supper Stretchers
Disclosure: Some of the links below are affilate links, meaning, at no additional cost to you, I will earn a commission if you click through and make a purchase.