Crockpot Spaghetti Squash
I love spaghetti squash. It's healthy, filling and a great pasta substitute. The only problem with it is cooking it. It cooks faster when you cut it in half, but it's pretty hard to do. After trying to do it myself and almost losing a finger, I now have my husband do the cutting if I'm roasting the squash. Of course that requires him to be around when it's time to get the squash started in the oven, which doesn't always happen.
Instead I started cooking the whole squash in the crockpot. It's quick and easy and the slow cooker won't heat up your house the way the oven can. Here's what I do…
Get out your large crockpot and place the squash in it. Add a cup of water, close the lid and cook it on low for 8 to 10 hours. Carefully remove the squash using oven mitts and put it on a large plate or cutting board. Using a large, serrated knife, cut the cooked squash in half. Remove the seeds and set them aside. They can be roasted later just like pumpkin seeds. Use a fork to rake out the "noodle-like" strands of cooked squash.
Top your fake pasta with your favorite pasta sauce and serve. It's also a great side dish with a little butter and pepper.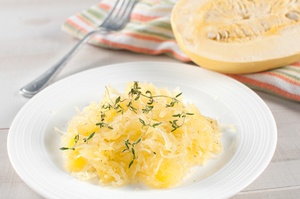 Disclosure: Some of the links below are affilate links, meaning, at no additional cost to you, I will earn a commission if you click through and make a purchase.