Crockpot Orange Chicken Recipe
This is such a simple recipe. There are only 4 ingredients (chicken, orange jam, barbecue sauce and soy sauce), and it cooks to perfection in the slow cooker. Serve over some cooked rice and dinner is done. If you're feeling fancy, steam up some broccoli or slice up some garden fresh cucumbers to go along with this homecooked take on a Chinese takeout favorite.
You can make this with either chicken breast or chicken thighs. I prefer to use the boneless skinless kind. If you're in a bit of a hurry, chop up the chicken and pan fry it until it is almost done, then transfer to the slowcooker along with the jam and sauces and proceed from there.
Slow Cooker Orange Chicken
Ingredients
4 boneless, skinless chicken breasts or 6 thighs
3/4 cup barbecue sauce
3/4 cup orange jam
1 – 2 tbsp soy sauce (or to taste)
Instructions
Put the chicken in the slow cooker and cook on low for 4 – 5 hours or on high for 3 hours.
Remove the chicken and slice it. Return to the slow cooker.
Add the remaining ingredients and cook for an additional 30 to 45 minutes.
Serve over cooked rice.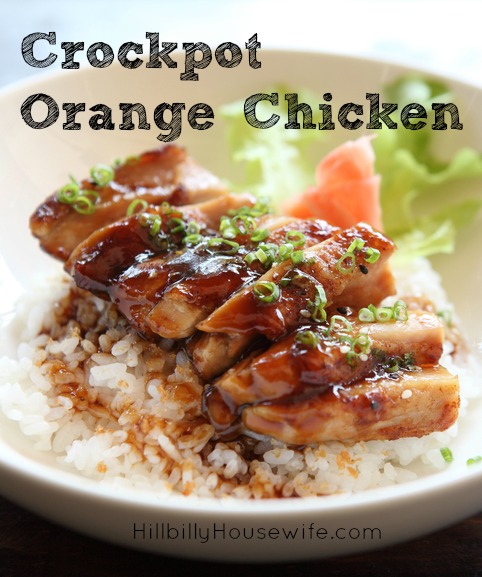 Disclosure: Some of the links below are affilate links, meaning, at no additional cost to you, I will earn a commission if you click through and make a purchase.