Crisp Meringue Cookies
I'm looking for a recipe for Meringue cookie. My mother used to make these and I loved them so much. Hers were light and did not fall apart as much like I found my last attempt did. Hers were like a soft cookie but with a slight crisp.

Janie Britton
From The Hillbilly Housewife
My mom has been making these cookies for years and  years. She's got it down to a science. I'll share her recipe with you below, but this is one of these things (like biscuits) that take a little practice. You have to get the egg whites to just the right stiffness and while I will give you my baking temperature and time, it will vary from oven to oven. The last time we moved and I ended up buying a (new-to-me) oven, and the first time I made these cookies in it, they were lightly browned on the outside (a little darker than I like) but still chewy on the inside. The next time I lowered the temperature of my oven by 5 degrees and they turned out perfect.
All this to say: Follow the recipe but don't be afraid to tweak it until you get the perfect light and crisp meringue cookies that melt in your mouth. 
My Mom's Meringue Cookie Recipe
3 large eggs (whites only)
small pinch of salt
1/2 cup white sugar
1/2 tsp vanilla extract
3/4 cup powdered sugar
parchment paper
Preheat your oven to 200F.
Start by separating your eggs. I save the yolks and use them in scrambled eggs the same day. Put the egg whites into a mixing bowl. Add the salt and using your electric mixer whisk the egg whites for close to a minute on medium speed. You're looking for soft peaks.
Continue mixing and slowly start to add the white sugar. Continue mixing until stiff peaks form. Add the vanilla extract toward the end. You're looking for egg whites that will continue to stand up when you move the beaters.
Gently fold the powdered sugar into the egg white mixture. Don't over-mix!
Line a cookie sheet with parchment paper. Either spoon the egg white mixture on the paper, or use a pastry bag. Don't have a pastry bag to pipe them on? Grab a freezer bag and cut one of the corners.
Put the cookies in the oven, on the lowest rack and bake them for three hours. Turn the oven off and allow the cookies to cool completely in the oven.
Store in an airtight container.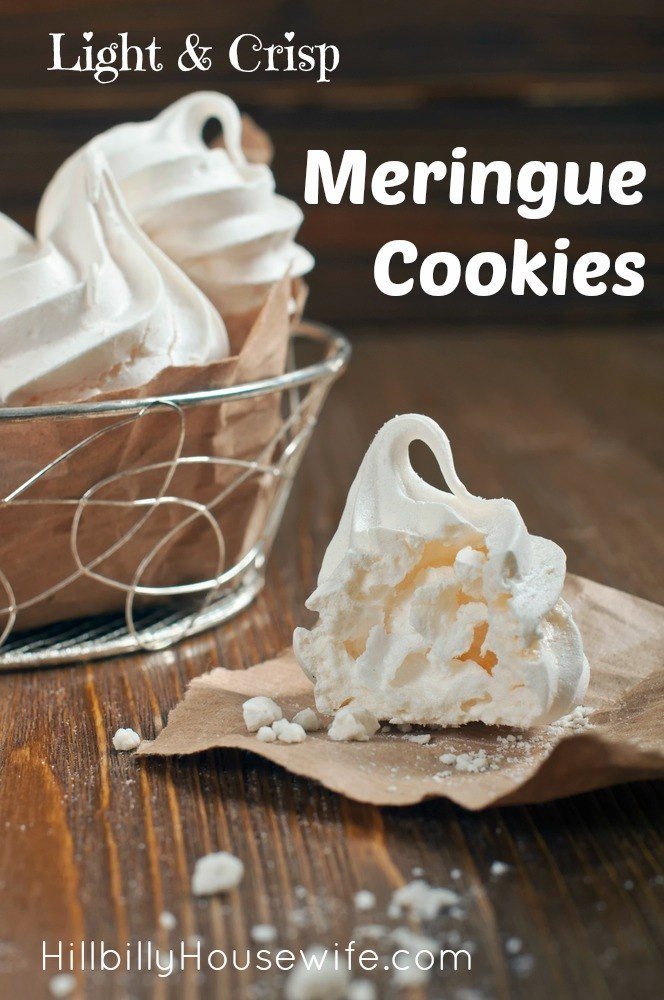 Disclosure: Some of the links below are affilate links, meaning, at no additional cost to you, I will earn a commission if you click through and make a purchase.