Creating Family Holiday Traditions
One of the best things about the Christmas season is the family traditions we grew up with and get to pass on to our children. Early in my marriage it was sometimes a bit of a challenge, but also always fun to merge the traditions I learned from my German family with those of my husband.
In our house we celebrate St. Nikolaus day on December 5th and then have Santa bring presents on Christmas day. We decorate our tree the day after Thanksgiving, but also celebrate the 4 Advent Sundays by lighting first one, then two, then three and finally four candles.
The beauty of family traditions is that they are fluent. If you didn't grow up with a lot of Holiday traditions, get started with one or two this year. Change them up to make them meaningful for you and your loved ones.
Here are a couple of tradition ideas to get you started. Remember, there are no right or wrong traditions. Want to order pizza Christmas Eve and eat it in your PJs? That's a perfectly valid Christmas tradition. Have fun with it and remember that the key is to create memorable moments.
Go pick out a tree at a tree farm and bring it home.
Decorate the tree together. Play some Christmas music and take a hot chocolate break.
Make some homemade ornaments and share them with family and friends.
Bake some cookies. Make up an extra plate and take it to an elderly neighbor.
Make up an advent calendar to help count down the days in December until Christmas.
Hang up your stockings.
Set out some cookies and milk for Santa on Christmas Eve. Don't forget some carrots or special reindeer food.
Open one present on Christmas Eve and save the rest for Christmas morning.
Light a candle on each of the 4 Sundays before Christmas and spend a little time thinking about what you're grateful for this year.
Remember the story of Jesus's birth by setting up a nativity scene and reading about it in the bible.
Spend some time volunteering and spreading holiday cheer this season.
Watch some cheesy Christmas movies with the whole family.
Have a Christmas picture taken.
Send out Christmas cards.
Go to church on Christmas Eve or Christmas Day.
This is by no means an inclusive list. It just includes some of our own favorite holiday traditions. I hope they will inspire you to think about what you would like your family traditions to be for this and future holiday seasons. Think about what stuck out to you as a kid and what you want to pass on to your own children.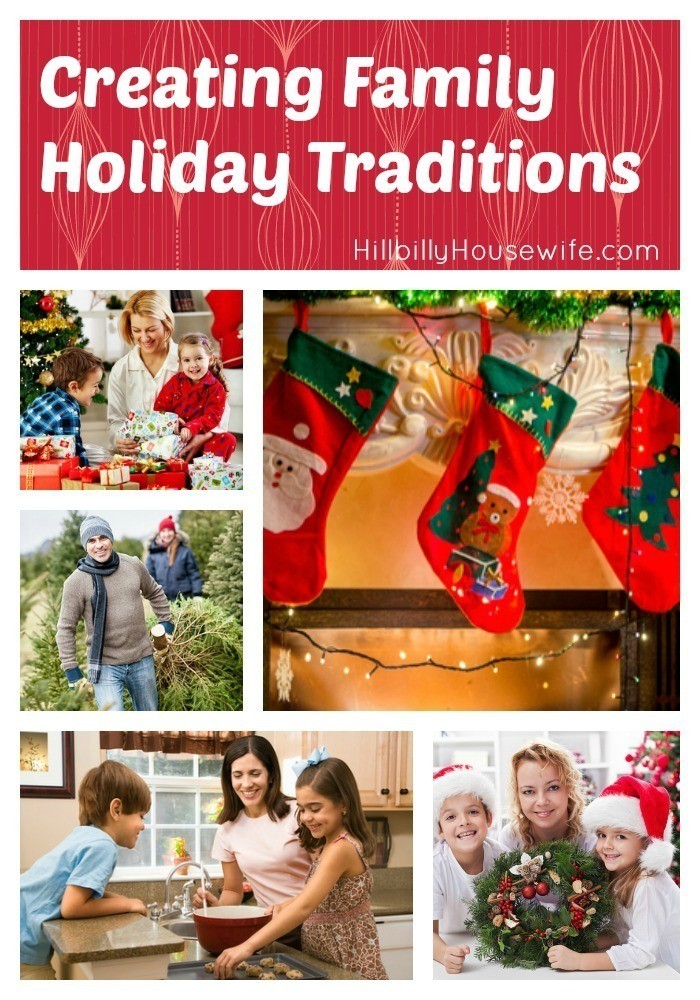 Disclosure: Some of the links below are affilate links, meaning, at no additional cost to you, I will earn a commission if you click through and make a purchase.