Creamy Italian Dressing
Have you tried making your own salad dressings from scratch? It's so easy and the end result is much tastier than the bottled stuff. Today I want to share my recipe for creamy Italian dressing with you. It's a favorite around here and goes well on a salad that accompanies a wide variety of dishes. I usually make a fresh batch each time we have salad, but this will also keep for a few days in the fridge in a clean glass jar.
This dressing is so tasty I am often tempted to eat it by the spoonful. Try it on your favorite salads, and also on baloney sandwiches, and in pita bread sandwiches.
Creamy Italian Dressing Recipe
Ingredients
1/2 cup mayonnaise
1/2 cup oil
2 teaspoons dry onion
2 or 3 tablespoons vinegar
1 tablespoon sugar or honey
1/2 teaspoon basil
1/4 teaspoon EACH oregano, garlic powder & salt
1/8 teaspoon pepper
Instructions
Measure the mayonnaise into a bowl. Stir in the oil, 2 tablespoons at a time. Make sure all of the oil is blended in before adding more. Add the onion, and vinegar. Stir again, until all of the vinegar is absorbed. Add the sugar, basil, oregano, garlic, salt and pepper. Blend well. Store the mixture in a pint sized canning jar in the fridge. This may also be prepared by whirling everything together in a blender until it is smooth.
© 2023 Copyright www.HillbillyHousewife.com
Ready for more delicious homemade salad dressing recipes? Try this Caesar dressing, or check out my favorite homemade salad dressings here.
For more recipes for simple mixes and "convenience foods" that you can make yourself, check out:
Homemade Mixes – Make It Yourself and Save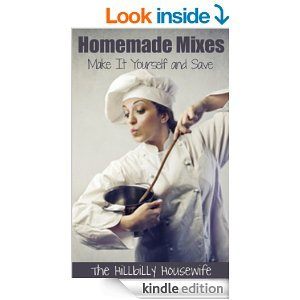 Making your own mix from scratch rather than buying it in the store not only saves you money but also saves you from all the additives and preservatives that are put in the foods we buy. The recipes include:
Apple Pie Spice Mix
Basic Muffin Mix
Brownie Mix
Caribbean Jerk Seasoning
Chocolate Chip Cookie Mix
Corn Bread Mix
Cream of Soup Mix
Fajita Seasoning
Fish Fry Coating Mix
Fruited Oatmeal Mix
Homemade Taco Seasoning Mix
Homemade Vanilla Chai Tea Mix
Disclosure: Some of the links below are affilate links, meaning, at no additional cost to you, I will earn a commission if you click through and make a purchase.