Creamy Rich Hot Cocoa Mix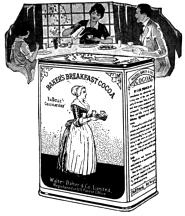 2 cups powdered milk
1/2 cup powder for making chocolate milk (like Nestle, only I used a store brand)
1/2 cup powdered coffee creamer
1/2 cup sugar
1/8 teaspoon salt
Combine all of the ingredients in a bowl. Stir so that everything is evenly distributed. Transfer the mixture to a quart-sized storage container. Store on the pantry shelf. Makes about 3-1/2 cups.
To Prepare: Spoon 1/3 cup of Mix into a mug. Add boiling water and stir to dissolve. Serve hot.
This is the richest hot chocolate mix I make. It isn't as cheap as the other recipe, and you'll notice I don't make it in such a large amount. It is very sweet and creamy though, and the kids like it for dessert.
If this mix is a little rich for your taste, try this hot cocoa mix. It's another recipe from my frugal beverage collection.
Disclosure: Some of the links below are affilate links, meaning, at no additional cost to you, I will earn a commission if you click through and make a purchase.