Creamy Pumpkin Dip Recipe
I love a nice pumpkin pie, but don't always feel like baking. This dip is a quick yummy snack that gives you the same sweet pumpkin flavor without the oven.
It's great served with fresh fruit or your favorite simple cookies. Perfect for the holidays when all you really want is a little bite of your favorite dessert. The recipes is from My Best Dip Recipes – A Cookbook Full of Dips and Spreads For Any Occasion.
Pumpkin Dip
Ingredients
2 cans pumpkin pie mix
1 (8 oz.) package of cream cheese
1/2 cup sour cream
Slivered almonds, optional
Instructions
Mix all ingredients together until well combined. Chill if desired.
Serve with fresh fruit slices, vanilla wafers or gingersnaps for a sweet treat.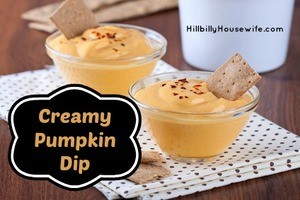 Disclosure: Some of the links below are affilate links, meaning, at no additional cost to you, I will earn a commission if you click through and make a purchase.