Creamy Leek Potato Soup
On a cold winter day like today, there's nothing better than a nice warm bowl of soup. I thought I'd share a simple recipe with you today that I'm about to make for dinner. I've been cooking this for a few years and published it in my "St. Patrick's Day Kindle Book". Enjoy!
Creamy Leek Potato Soup
Ingredients
2 large leeks, thoroughly trimmed and washed
1 medium onion, diced
2 garlic cloves, minced
2 Tbsps olive oil or other cooking oil
3 cups chicken stock
1 cup water
1 lb gold potatoes (like Yukon gold) potatoes, peeled and diced
salt and black pepper to taste
1/2 cup milk (or half and half)
Instructions
Cut the cleaned leeks into small pieces, and put in a large pot along with the onion, garlic, and oil, and cook over medium heat, stirring, for about 3 minutes or just until the leeks and onions soften slightly.
Add the chicken stock and water, stir, then add the potatoes. Bring mixture to a boil, then reduce the heat to low, cover, and let simmer very slowly for 25 to 30 minutes. The potatoes should be very tender.
To puree soup, use an immersion blender, or let cool slightly and pour into blender or food processor and pulse until smooth. Taste and add salt and pepper as needed.
Put soup back on low heat after blending, then stir in milk and allow to warm, but do not boil. Serve with a pat of butter in each bowl and some chopped chives if desired.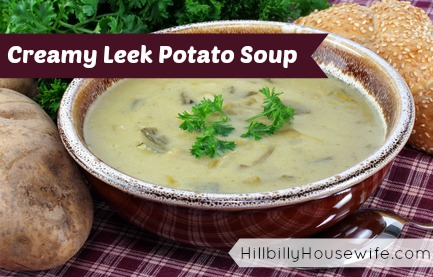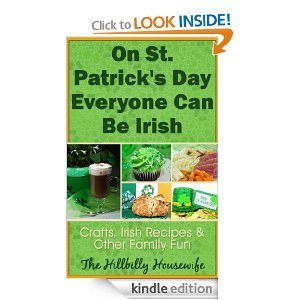 On St. Patrick's Day Everyone Can Be Irish St. Patrick's Day gives us all an excuse to have some fun and eat delicious comfort foods. Just thinking about corned beef, cabbage & soda bread give me goose bumps.
Those classic Irish dishes are among some of my favorite but it's fun when you can find new recipes that make your tummy happy. Since St. Patrick's Day is just around the corner I thought it would be nice to put together some recipes and crafts and create a kindle ebook to celebrate. You'll find delicious Irish food along with a bunch of crafts that your family will enjoy creating together. And remember, with all Kindle ebooks, you don't need a Kindle to download them. Amazon makes it easy to put right on your computer, laptop, or other e-reader or device. And the price is right, too! http://www.hillbillyhousewife.com/stpaddybook
Disclosure: Some of the links below are affilate links, meaning, at no additional cost to you, I will earn a commission if you click through and make a purchase.