Cream of Anything Soup Mix
Lots of recipes call for "cream of…" type canned soups. This could be cream of mushroom, cream of celery, cream of chicken, cream of potato etc.
Instead of continually buying the cans, why not make this frugal cream of anything soup mix and use it anytime a recipe calls for the soup. It's quick and easy to put together and quite a bit cheaper than buying canned soup. It also takes up less room and lasts for up to a year.

Cream of Anything Soup Mix
4 c. powdered milk
1 1/2 c. cornstarch
1/2 c. instant chicken bouillon granules *
4 tsp. dried onion flakes
2 tsp. dried thyme
2 tsp basil – crushed dried
1 tsp. pepper
* For a vegetarian version of this soup, use vegetable broth bullion instead.
Measure all ingredients and pour them into a container with an airtight seal. I like to use a tupperware type container, but a larger freezer bag will work as well. Be sure to label your container.
To Use The Mix:
Combine 1/3 cup of the mix with 1 cup of water and heat it over medium low heat in a small saucepan until it starts to thicken. This is the equivalent of one can of soup.
Homemade Mixes – Make It Yourself and Save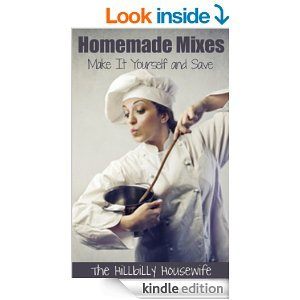 Making your own mix from scratch rather than buying it in the store not only saves you money but also saves you from all the additives and preservatives that are put in the foods we buy. The recipes include:
Apple Pie Spice Mix
Basic Muffin Mix
Brownie Mix
Caribbean Jerk Seasoning
Chocolate Chip Cookie Mix
Corn Bread Mix
Cream of Soup Mix
Fajita Seasoning
Fish Fry Coating Mix
Fruited Oatmeal Mix
Homemade Taco Seasoning Mix
Homemade Vanilla Chai Tea Mix
Disclosure: Some of the links below are affilate links, meaning, at no additional cost to you, I will earn a commission if you click through and make a purchase.