Cool Minty Sweet Pea Soup
Sweet peas and mint are one of those combinations that, once you know about it, you'll be looking for all kinds of ways to put them together.
This recipe is unusual (especially in my family) because it's a cold soup.  I don't make many cold soups, but this one is on the top of my list now. The sweet peas and mint mix perfectly with the cream and turn into a delicious spring treat. This would also be great in late spring and early summer made with fresh sweet peas.
Sweet Pea Soup With Mint
Ingredients
1 Tbsp Olive oil
3 green onions, chopped
3 cups frozen sweet peas
1 quart chicken stock or vegetable stock
1 cup chopped fresh mint, chopped
salt and black pepper
1 Tbsp of creme fraiche (or heavy cream)
Instructions
In a pot, heat the olive oil over medium heat, then stir in the green onions and cook for 2 minutes, then add the sweet peas, stir and heat for 2 more minutes. Pour in the chicken stock and the chopped mint, turn heat down to low, and simmer slowly for 10 minutes.
To puree, use an immersion blender or let cool slightly then put in blender or food processor and pulse until smooth. Pour into bowl, cover, and refrigerate until cold.
To serve, spoon into pretty bowls and add a drizzle of creme fraiche or heavy cream. Top each serving with a sprig of fresh mint and serve cold. Will make 2 to 4 servings.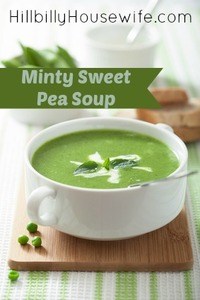 Disclosure: Some of the links below are affilate links, meaning, at no additional cost to you, I will earn a commission if you click through and make a purchase.