Coconut Cookie Recipe
These delicious cookies are full of coconut and vanilla with a little rum for flavor and of course plenty of sugar to make them sweet and crunchy. Don't they look beautiful, sprinkled with a little extra coconut? 
I usually make the dough for this right before picking my daughter up from school. By the time we are home and settled in, the dough is chilled enough for them to bake up perfectly.
From the Weekend Cookie Recipes  Kindle Cookbook
www.HillbillyHousewife.com/cookiebook
Easy Coconut Cookies
Prep time:
Cook time:
Total time:
Ingredients
3 cups flour
5 cups sugar
1/4 cup unsalted butter
6 eggs
2 teaspoons vanilla extract
1 tablespoon light rum
6 cups shredded coconut
Instructions
In a large bowl, mix all ingredients together with an electric mixer. Cover with plastic wrap and refrigerate for 60 minutes.
While preheating oven to 375 degrees, line a baking sheet with wax paper.
Roll the dough into 1 inch balls and place them 2 inches apart on the baking sheet.
Bake until browned around the edges and on the bottom (approximately 10 minutes).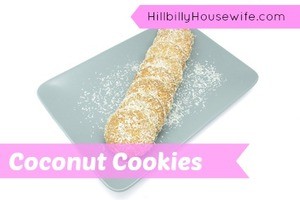 Disclosure: Some of the links below are affilate links, meaning, at no additional cost to you, I will earn a commission if you click through and make a purchase.