Chocolate Raspberry Wraps On The Grill
Put your grill or campfire to work for you for more than the main meal.  Add this fabulous, fun, and tasty dessert to the menu when you fire up the grill. Use other berries or fruits when they are in season, too.  This is a very versatile dessert that the whole family will enjoy.  Be sure to give it a try at your next cookout or camping trip and let me know how you liked them.
4 (8 inch size) flour tortillas
1 cup semisweet chocolate chips
1 cup fresh raspberries
2 Tbsp butter, melted
2 Tbsp sugar
2 tsp cinnamon
aluminum foil
Tear off a big sheet of foil.  Remove tortillas from plastic wrapping.  Stack the tortillas on top of the foil and fold closed, then place the foil packet on a grate on the campfire or on grill. Flip the packet over once or twice, heating for about 5 minutes or until the tortillas are warm. Slide packet over to coolest area of campfire just to keep warm.
Open the foil and remove one tortilla, setting it on a plate, closing foil to keep the rest warm.
On the tortilla, sprinkle 1/4 of the chips and 1/4 of the berries in the center.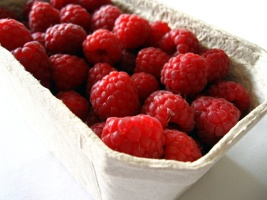 Fold in the sides and roll up tight burrito style; set aside on plate.
Repeat with each tortilla.
Brush each tortilla roll with melted butter, then place directly on grate on campfire over slow coals or on the grill – not too hot.
Cook about 2 to 3 minutes, then flip and cook 2 to 3 more minutes or until chocolate melts and you get grill marks on the burritos.
Remove to a serving plate. You can brush with more melted butter if you wish.
Stir together in a separate small bowl the sugar and cinnamon and sprinkle over the burritos.
Serve warm. You can top with a little whipped topping and fresh berries if you like.
You can also use other fruit, like blueberries, for instance.
Makes 4 dessert servings.
When the weather gets warmer, the last thing you want to do is stand over the stove, cooking a big meal. Not only is it hot in the kitchen, but the thought of eating a hot, heavy meal just doesn't sound very appetizing.

That's exactly why I put together this ebook –
Summer Cooking – Keeping It Cool

Summer is the time for easy meals and refreshing beverages. You want to get in and out of the kitchen fast, but, you also want a meal that's satisfying. A bowl of lettuce and tomatoes just won't do.

In this ebook you'll get lots of fresh and fabulous meals that will get you out of the kitchen fast, but also be flavorful and filling. Click on and buy this great little ebook and start enjoying deliciously simple Summer meals today! www.hillbillyhousewife.com/ebooks/summercooking.htm
Disclosure: Some of the links below are affilate links, meaning, at no additional cost to you, I will earn a commission if you click through and make a purchase.