Chicken & Rice Casserole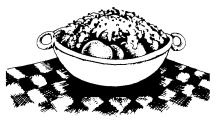 1/4 cup margarine (1/2 a stick)
1/3 cup flour
1 teaspoon salt
1/4 teaspoon pepper
1 cup strong chicken broth (make with 2 bouillon cubes)
1-1/2 cups milk
2 cups cooked rice (leftovers are great)
2 cups cooked, cubed chicken or turkey
4 oz can mushrooms, drained
1 cup frozen peas
2 oz jar pimiento (optional)
1/4 cup slivered almonds (optional)
First you need to make a white sauce. Use a 3-quart saucepan to make it because you will use the sauce pan to combine all of the ingredients later. So, melt the margarine in the saucepan over medium heat. When it is melted, stir in the flour. Whisk it until it is smooth and bubbly. Gradually add the chicken broth and the milk. I use real chicken broth if I have it, other wise I just add a cup of water, and a couple of bouillon cubes. Stir this as you cook it over medium heat. A whisk works really good for preventing any lumps. When the sauce is thick and boiling, allow it to boil for a full minute. Remove it from the heat. Add the rice, chicken, mushrooms, peas and pimiento, if you are using it. Stir it all up really good. Turn the mixture into a well oiled 2-1/2 quart casserole. Sprinkle the almonds or other nuts on top. Bake at 350° for about 40 minutes. It should be hot and bubbly throughout. If desired, sprinkle with chopped parsley, fresh or dried, right before serving. Makes about 6 servings.
This is a company casserole. It is so good that I save it for special days. Perfect in the spring for mother's day, or around Easter time. It is good at church pot lucks too. I do not often add pimento to the dish, but the one time I did it sure did look pretty. Often pimento can be bought in 8 oz jars for about $1.25. If you buy one that large, use half of it in this recipe. The other half can go into another casserole, or into gelatin salads, or even scrambled eggs. The 2 oz jars cost as much as the 8 oz jars, so you might as well get your money's worth. The almonds or nuts could be replaced with cracker crumbs and small dots of margarine, if you wanted something crunchy on top, without the cost of nuts.
Disclosure: Some of the links below are affilate links, meaning, at no additional cost to you, I will earn a commission if you click through and make a purchase.