Chicken Pot Pie
Good o'l fashioned chicken pot pie is always a favorite around here. And if you make it from scratch, it's a very frugal meal. Get the cheapest cut of chicken you can and just cook it. I like getting a whole chicken, cook it in the crockpot and then use some of the meat for this dish. For The Crust:
2-1/4 cups flour, half wheat and half white is good
1 teaspoon salt
2/3 cup shortening
about 1/2 cup of tap water
For The Filling:
4 cups cooked chopped chicken
1 pound frozen mixed vegetables, or 2 – 15 oz cans, well drained
For The Gravy:
1/4 cup margarine
1 cup chopped onion
1 cup chopped celery
1/2 cup unbleached flour
4 cups chicken bouillon (from bouillon cubes is fine)
1/2 teaspoon pepper
1/2 teaspoon poultry seasoning
Prepare the crust first. In a large bowl combine the flour and salt. Add the shortening, and mash it into the flour until it is crumbly. Add the water and stir to combine. Gather the particles up into a ball of dough. Roll the dough out between sheets of waxed paper, to make a large rectangle. Set aside. Oil a 9 by 13-inch pan. In it arrange the chopped chicken and the mixed vegetables. Set this aside. In a large saucepan melt the margarine. Add the onion and celery, and sauté it all around until the onion is tender and fragrant. Sprinkle the flour over top of the vegetables and stir it up nicely. Pour on the bouillon. Stir everything around to dissolve the flour in the bouillon. Add the pepper and poultry seasoning. Bring the gravy to a boil while you stir it frequently. Boil for a few minutes to blend the flavors. Pour the hot gravy overtop of the chicken and vegetables in the pan. Stir it up a little, to get everything evenly moistened. Arrange the dough on top of the chicken and vegetables. It doesn't have to touch the sides of the pan. If it is too large, then tuck under the edges a little, to accommodate the pan. If it is too small, don't worry, just put it on top anyway. Using a sharp knife, score the dough into 8 or 12 servings. Poke each serving with a fork in the center. This makes it pretty and easy to serve. Bake at 450° for 30 minutes. Serve hot with fruit gelatin and cucumbers. Makes 8 or 12 servings.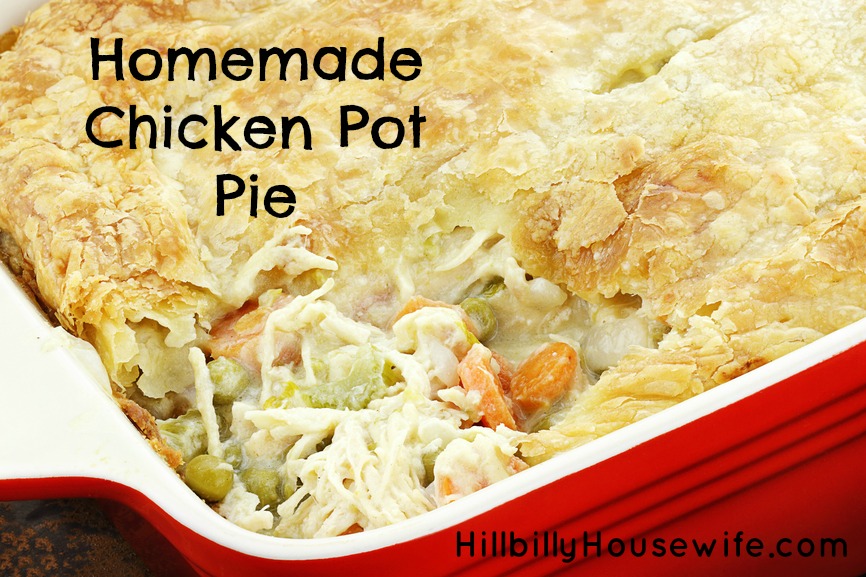 Disclosure: Some of the links below are affilate links, meaning, at no additional cost to you, I will earn a commission if you click through and make a purchase.