Chicken Teriyaki Marinade Recipe
You can buy Teriyaki marinade at the store, but I much prefer to make my own. Here's the one I use anytime I make chicken teriyaki from scratch. It makes enough for one recipe and I recommend you prepare this fresh each time. If you want to work ahead, you can mix up the marinade and store it in the fridge for up to 2 days before using it.
•    1/3 cup soy sauce
•    1/3 cup water
•    ¼ cup sake
•    ¼ cup mirin
•    3 tbsp sugar
•    1 tsp grated ginger
Whisk everything together in a bowl. I like to use a fork for this. Sake and mirin are both a bit of a specialty item that give this marinade it's authentic taste. You can easily substitute a little water and some more sugar (since mirin is sweet), or use a dash of Sherry or Marsala instead.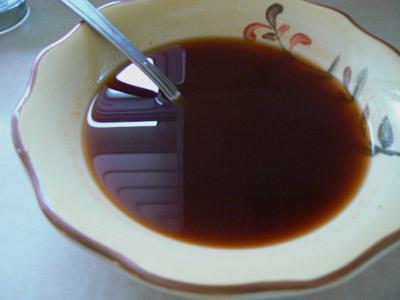 You can use this marinade in any recipe that calls for Teriyaki sauce. I mostly use it in chicken dishes, but it's great for marinating pork too.
This homemade version is tastier and even with the investment in sake and fresh ginger less expensive in the long run than the store-bought versions. You can make it even more frugal (though not quite as tasty) with these modifications:
Replace the Sake and mirin with a little water and sugar… you may also want to add a dash of vinegar or lemon juice to add acidity.
Use powdered ginger instead of fresh.
How To Use The Teriyaki Marinade
You can use this marinade in any recipe that calls for Teriyaki sauce. I like to marinate chicken for at least an hour in it before either stir-frying it, cooking it in the oven or grilling it. As I mentioned above, you can also use it to marinate and season pork or even vegetables. It's yummy brushed on veggies while you grill or roast them as well.
Discard any leftover marinade immediately or use it during the cooking process.
Disclosure: Some of the links below are affilate links, meaning, at no additional cost to you, I will earn a commission if you click through and make a purchase.