Cheesy Crockpot Chicken
This recipe recipe is always a crowd-pleaser and very kid-friendly as well. I serve it with the delicious sauce over rice or noodles. Just add a side salad or steam up some broccoli and dinner is done.
This is a recipe from my new Kindle cookbook – 35 Simple and Tasty Chicken Crockpot Recipes
Instead of using store-bought condensed soup, use this recipe to make your own. Add 1/2 cup of grated cheese to turn it into cheese soup and a little chicken bullion powder to taste for the cream of chicken soup.
Cheesy Crockpot Chicken
Ingredients
2 Lbs. Boneless Skinless Chicken Breasts
1 10.5oz Can Condensed Cheddar Cheese Soup
2 10.5oz. Cans Condensed Cream of Chicken Soup
1/4 Tsp. Garlic Powder
Salt and Pepper, to taste
Instructions
Place chicken breasts in the crock pot. Mix the undiluted soups together, add garlic powder, salt and pepper and pour over chicken. Cover and cook on low 6-8 hours, until chicken is tender.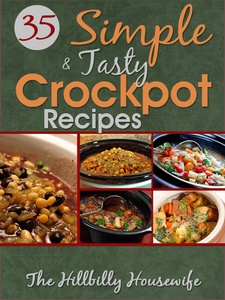 Disclosure: Some of the links below are affilate links, meaning, at no additional cost to you, I will earn a commission if you click through and make a purchase.