Cheese & Grits Breakfast Casserole
My husband grew up on sausage and grits in the morning. While a microwave sausage patty and instant grits will do during the week, this weekend version is a real treat. It's good home-cooking, perfect for a cozy family weekend, but pretty enough to serve at a brunch.
This is also perfect for church or potluck breakfasts and lunches. If you're cooking for a crowd, just double or triple the recipe and assemble in 2 or 3 casserole dishes.
Cheese & Grits Breakfast Casserole
Author:
Prep time:
Cook time:
Total time:
Ingredients
1 pound sausage
1 tablespoon onion, chopped finely
6 eggs (beaten)
1 cup milk
1 cup grits cooked in 4 cups water
6 ounces corn muffin mix
1 teaspoon any type herb seasoning
1/2 pound Colby jack cheese, shredded
1/2 teaspoon paprika
Instructions
Preheat the oven to 350 degrees.
In a large skillet, sauté the sausage with onion until all the pink is gone.
In a large bowl, beat the eggs and then add the milk, cooked grits, corn muffin mix and herb seasoning.
On the bottom of a 9×12 inch pan, spread the sausage mixture. Add the grits and cheese. Sprinkle with paprika.
Bake for 1 hour and let stand for 5 minutes before serving.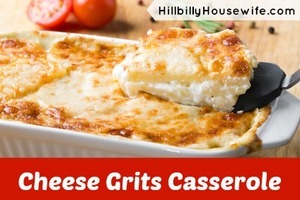 The Hillbilly Housewife Recommends: 
For more delicious breakfast casserole recipes, get a copy of my bestselling Kindle cookbook. Inside you'll find 35 recipes your family will love including:
Ham, Hash Brown and Cheese Breakfast Casserole
Sausage Breakfast Casserole
French Toast Breakfast Casserole
Sugar Free French Toast Breakfast Casserole
French Toast Breakfast Casserole – Syrup on the Bottom Version
Apples and Raisins French Toast Breakfast Casserole
Peach French Toast Breakfast Casserole
Sunday Morning Breakfast Casserole
Cheese Grits Breakfast Casserole
Spinach and Cheese Breakfast Casserole
All-in-One Breakfast Casserole
What a perfect way to start your morning. Get Breakfast Casseroles – 35 Recipes for Everyday & Special Occasions today.
Disclosure: Some of the links below are affilate links, meaning, at no additional cost to you, I will earn a commission if you click through and make a purchase.