Carrot Cake Poke Cake Recipe
I love a nice slice of traditional carrot cake and will grab it for dessert if we are out for dinner somewhere (which doesn't happen very often). For some reason it's not something I bake on a regular basis. I don't know why. Instead, when I really have to have some carrot cake, I started making this fun poke cake version instead. It's yummy and goes together quickly. It also makes for a great birthday cake.
Carrot Poke Cake
Ingredients
1 Spice Cake Mix
1/4 Cup Raisins
2 Cups Carrots, shredded
1 Small Box Orange Jell-O Gelatin
1 Cup Boiling Water
1/4 Cup Butter, softened
4 oz. Cream Cheese, softened
1/2 tsp. Pumpkin Pie Spice
2 Cups Powdered Sugar
Instructions
Preheat oven to 350F.
Prepare packaged cake as directed, and then stir in raisins and carrots until well mixed. Pour into a 9×13 pan and bake as directed.
Using a fork or skewer poke holes all around the cake about 1/2 inch apart.
In a separate bowl, pour boiling water over dry gelatin and mix for 2 minutes until dissolved. Immediately pour over cake.
Refrigerate approximately 3 hours.
Mix butter, cream cheese and pumpkin pie spice in a medium bowl with an electric mixer until well blended. Gradually add powdered sugar, beating until all powdered sugar has been used and mixture is well blended. Spread evenly over cake.
From the Poke Cake Kindle Cookbook
http://amzn.to/1ByVlZ0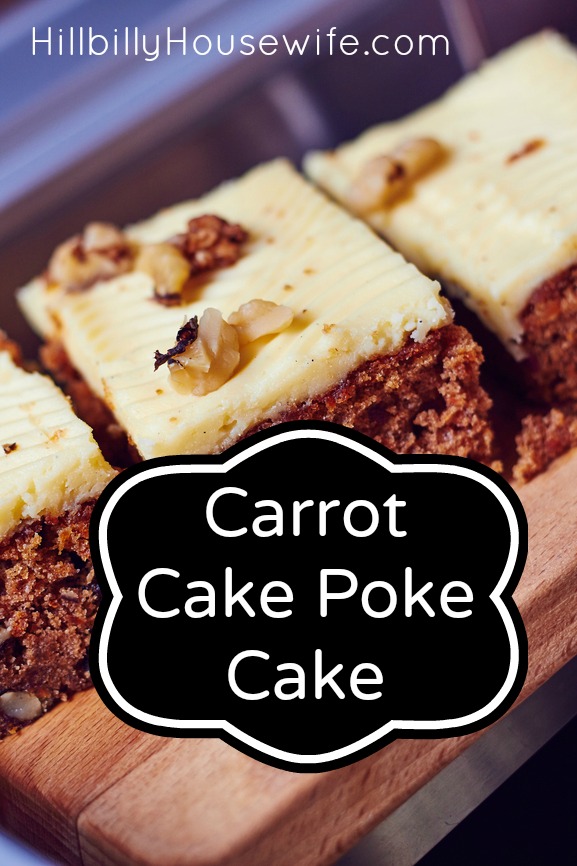 Disclosure: Some of the links below are affilate links, meaning, at no additional cost to you, I will earn a commission if you click through and make a purchase.