Canning 101 – Free Resource
Happy Monday Morning!
I put together a short report for you called Canning 101. It goes over the basics of canning and is a great introduction if you've been thinking about giving canning a try. You can download it here:
Canning 101 (pdf)
As always you are welcome to share this free resource with family and friends.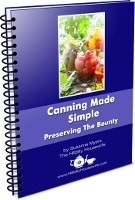 For more canning tips and lots of canning recipes, I recommend you grab a copy of my new ebook
Canning Made Simple
.
Inside you'll find over 40 canning recipes to get you started, along with simple to understand explanations about what to can, how to can, and even why to consider canning at all! 
Click on here to buy your copy today!
Disclosure: Some of the links below are affilate links, meaning, at no additional cost to you, I will earn a commission if you click through and make a purchase.