Candy Corn Pretzel Bites
I have a confession to make. I have a weakness for Candy Corn. I usually try to make it until at least October before giving in and buying a bag. This year I didn't quite make it. The third time of coming across it at the grocery store had me tossing it in the cart. Of course I justified it by saying that I had to do some research and come up with some fun ideas for the first issue of Homemaker's Hutch magazine…. but who am I kidding? I really just wanted candy corn.
A twist on the super easy-to-make Chocolate Pretzel Bites, these are perfect for a Halloween or Thanksgiving party. The recipe below is for 24 pretzel bites, but to be honest, I just grab a bag of pretzels, a bag of Hershey's chocolate kisses and a bag of candy corn and work away until I run out of one of the ingredients. Of course there's plenty of sampling going on while you assemble them … especially when children or husbands are involved 🙂
Candy Corn Pretzel Bites
Prep time:
Cook time:
Total time:
Ingredients
24 small pretzels
24 Hershey's Chocolate Kisses (unwrapped)
24 pieces of candy corn
Instructions
Arrange the pretzels on a non-stick cookie sheet. (For easy cleanup, use some parchment paper). Place a Hershey's kiss in the middle of each pretzel. Put them in 175 F oven for about 2-4 minutes, or until the chocolate has softened, but not fully melted. Remove the cookie sheet from the oven and top with a candy corn and press down. Allow to cool and serve.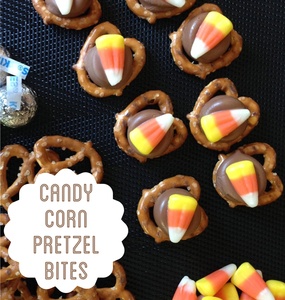 Disclosure: Some of the links below are affilate links, meaning, at no additional cost to you, I will earn a commission if you click through and make a purchase.