Candied Carrots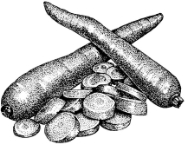 6 to 8 medium carrots, peeled and sliced
1/4 cup water
1 tablespoon margarine
2 tablespoons sugar or honey
1/4 teaspoon salt
Good Dash pepper
First prepare the carrots, cutting them into thin rounds. Place them in a saucepan with the water, margarine, sugar, salt and pepper. Bring the carrots to a boil over high heat. Cover and let simmer for about 5 minutes. Remove the lid. Watching carefully, cook the carrots until the water evaporates, and the carrots are simmering in the margarine. This will take about 5 more minutes. Remove from heat. They may be served immediately, or covered and reheated right before serving. Serves 4 or 6.
If you have vegetable haters in the house, try this recipe. Most kids like carrots, and this recipe makes them very sweet and child friendly. Even Tommy loves this one, and he is the most persnickety eater I have ever encountered.
Disclosure: Some of the links below are affilate links, meaning, at no additional cost to you, I will earn a commission if you click through and make a purchase.