Broccoli Cauliflower Salad With Raisins And Crunchy Bacon
Submitted by  a HBHW reader. 
I just found your recipe for this dish. I make something similar. I made up a copy cat version from one served in a local family restaurant.
broccoli
cauliflower
bacon bits
raisins
coleslaw dressing*
It is broccoli cut up into tiny pieces, the same with equal amounts of cauliflower.
Then add crumbled cooked bacon bits, and raisins.
Mix all this together with your favorite homemade coleslaw dressing.
*coleslaw dressing: I don't measure but mine is a combo of miracle whip, milk, sugar and apple cider vinegar.
Chill and enjoy.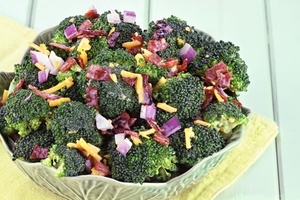 Disclosure: Some of the links below are affilate links, meaning, at no additional cost to you, I will earn a commission if you click through and make a purchase.